Two African Blackwood guitars available
I am offering two African Blackwood guitars for sale. Both are among the guitars built for myself because they interest me, both are beautiful looking and sounding guitars in mint condition. Now it's time to sell them, as I have more in the pipeline.
Because of the strong US dollar and week UK pound, this is an opportunity for US players to buy at a lower price than for many years.
African Blackwood
German spruce
D guitar
Now Sold
The D guitar is built on my large 12 fret Model 2 body with two extra frets added before the nut, so lowering the pitch by one tone.
I originally devised the D guitar when wanting to accompany in F but preferring G chords. The extra two frets also gave a wonderful deep resonant sound. Fitting a capo at the second fret gives standard guitar tuning, string scale and tension.
This is a guitar with all standard guitar strengths plus the extra depth and resonance available from the extended scale.
The German spruce soundboard comes from the Gleissner stock of best quality soundboards aged between ten and twenty years. It is mellowing nicely already, and has prominent Bearclaw figuring.
The rich, dark African Blackwood back and sides were on my shelves for nearly twenty years before the build, so are also well aged.
sobellguitars.com/verona-guitar
D guitar back detail

D Guitar specifications
Scale: 725mm (28.54″)
Soundboard: Aged Bearclaw German spruce
Back and sides: African Blackwood
Neck: Wengé
Fingerboard: Ebony
Bridge: Ebony with bone saddles
Binding: Rosewood with red, green and gold purflings
Trim: Arrowhead with red line
Max body width: 410 mm (16.14″)
Max body length 525 mm (20.66″)
Body shape: Model 2
Tuners: Gold plated Gotoh 510s
Nut width: 45 mm (1.77″)
String spacing at bridge: (2.36″)
African Blackwood
Figured Sitka
Verona guitar

The Verona model was inspired by a conversation with Massimo Raccosta, a guitarist and guitar collector living in Verona.
Built with a pickup as an integral part of the design and a shallow body to fight feedback, the Verona model has a satisfying balanced sound, and a surprisingly strong bass even unamplified.  A fellow guitar builder played one for a while but had no idea how shallow it was until he turned it over; he hadn't noticed any lack of bass.  The pickup sound is strong and versatile in that it suits many different musical styles; it is one of those guitars that somehow just feels right.
This guitar has the most stunning Bearclaw Sitka soundboard and beautiful old African Blackwood that blends in to the dark Wengé neck. It is fitted with the excellent Highlander under-saddle pickup with its Highlander external battery box.
sobellguitars.com/verona-guitar/

Verona Model back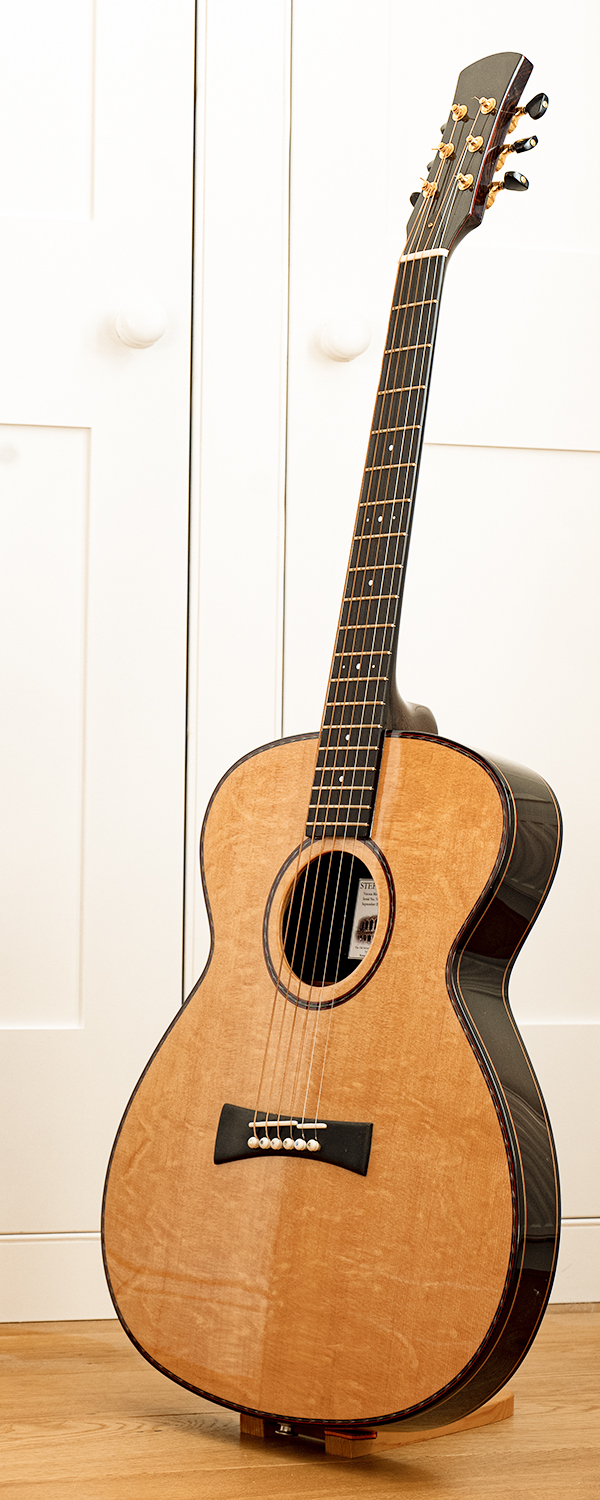 Verona Model specifications
Scale: 650 mm (25.6″)
Soundboard: Bearclaw Sitka
Back and sides: African Blackwood
Neck: Wengé
Fingerboard: Ebony
Bridge: Ebony with bone saddles
Binding: Black with red, green and gold purflings
Trim: Birdsfoot with red line
Max body width: 415 mm (16.3″)
Max body length: 495 mm (19.5″)
Depth: 75 mm heel, 55 mm tail
Nut: 45 mm
Tuners: Gold Gotoh 510s, black buttons
Pickup: Highlander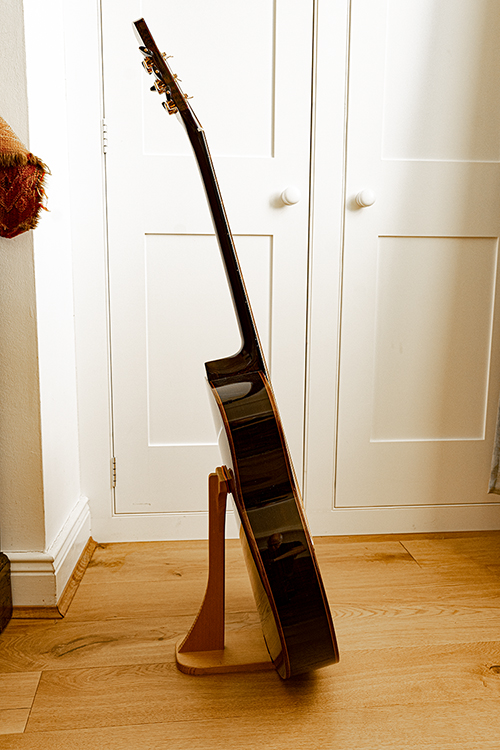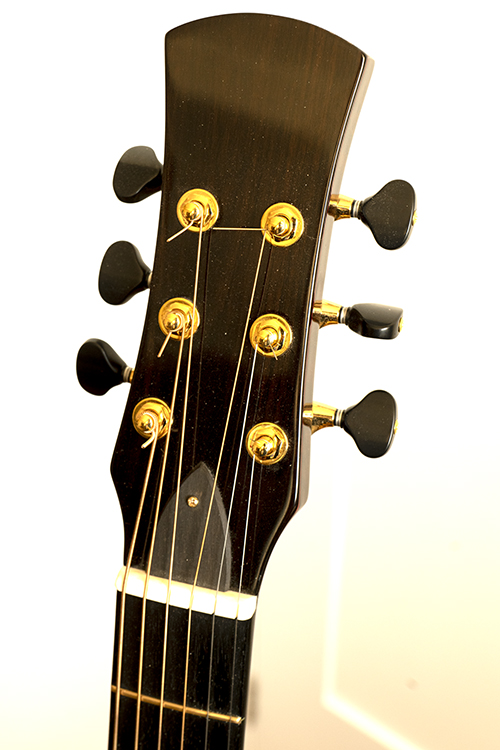 D Guitar images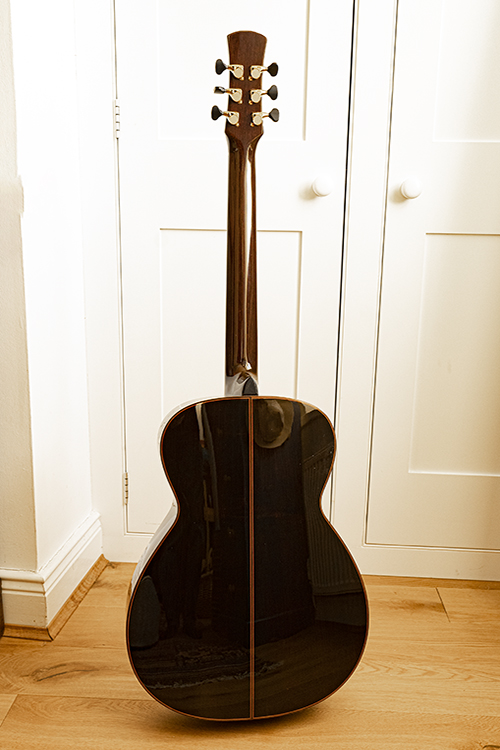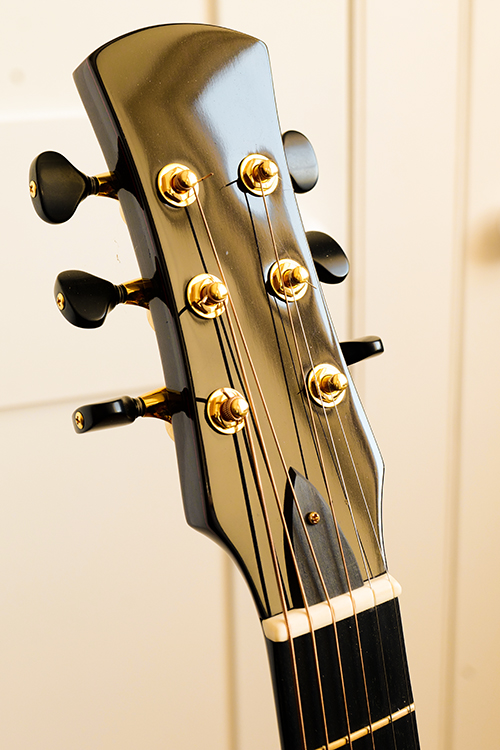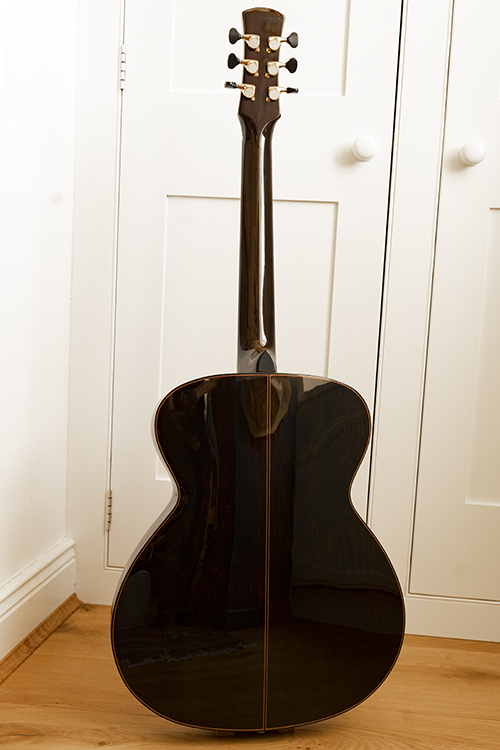 Verona Model images