Brazilian rosewood guitar sets for sale
This Brazilian rosewood is certified by APHA (Animal and Plant Health Agency, the UK CITES agency) as fully compliant with current CITES regulations. I bought it mostly in 2003 and 2005 from Timberline and Inca Trade respectively, choosing and selecting sets.  All were intended for my own use.
When buying, I  chose both decorative and traditional dark brown wood, but in either case I checked for the characteristic Brazilian rosewood metallic ring.  I was more interested in the special Brazilian sound than dramatic appearance.
The Timberline wood came into Belgium from Brazil as logs in the 1960s, and the Inca Trade wood was salvaged from early Brazilian buildings and furniture in the early 2000s.  We can only guess at the date this was felled, probably when the different forest areas were settled. All was fully legal and ethical and compliant with CITES regulations at the time of purchase.
As sustainability issues came more to the fore over the next few years, legislation changed. I don't enjoy administration and dealing with bureaucracy, so I didn't keep up with it.
The Brazilian rosewood sat stickered and air-drying on my shelves for many years while I built with other woods, African and Malaysian Blackwoods in particular (which also make great guitars). However, I was recently persuaded it was time to sort out the certification, and after considerable correspondence with APHA, I have now done this.
Having sorted and weighed it for certification, it's clear I have far more than I am ever going to be able to use, so I'm offering sets for sale.  In the early 2000s, although expensive, Brazilian rosewood was occasionally available. Now the supply seems, quite understandably, to have just about dried up and there are few quality sets on offer.  So this time-warp stock could be very useful.
As well as sets, I have a stock of unmatched pieces. These are available as expanders to make narrower backs into wider three piece backs if required (below), also to make a panel at the tail of the guitar if the sides aren't quite long enough (right).  They can be of similar wood, or contrasting.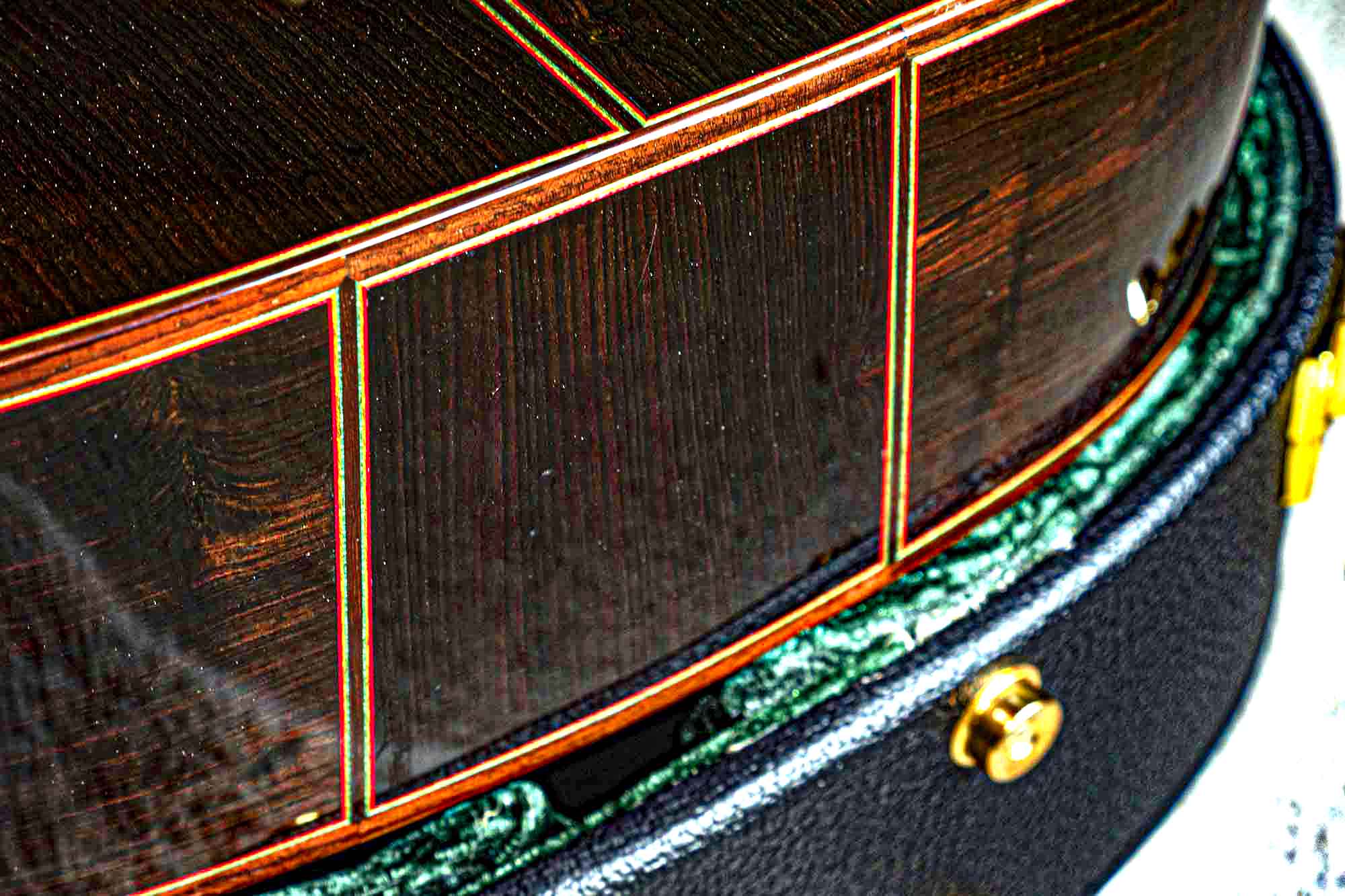 Tail panel fitted when sides don't quite meet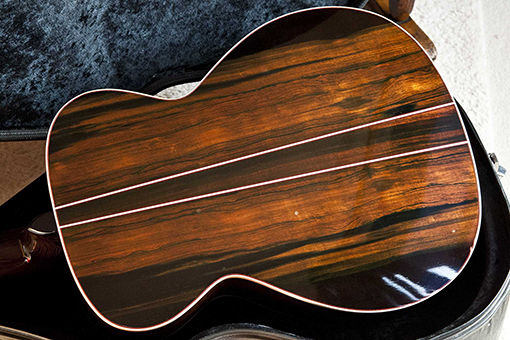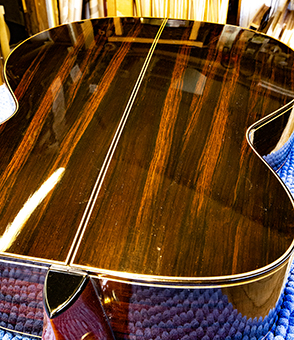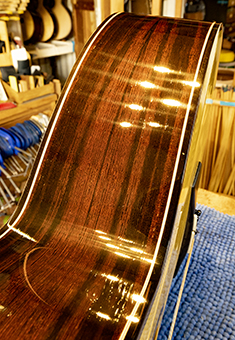 Left:  Expander added to make three piece back.              Centre:  Six piece scantling back joined to look like two piece.              Right:  Two piece scantling sides.
I have given dimensions of each set and the photos can be enlarged greatly, enabling close inspection.  As those who have worked with old Brazilian will know, it can be prone to small, almost invisible, cracks.  Fortunately, these glue up easily and firmly with superglue.  Wider cracks fill and often blend in unobtrusively with the grain figure. And I consider filled worm holes to be almost a decorative feature.
It has been taped up and stacked several times, so there are residues of tape adhesive on some of the sets, such as Nos 4, 8, 9 and 11. These are, of course, of no consequence. The backs shown here are all resting on either side of a centre strip, nothing is glued.
Under normal circumstances, I would invite you to come and look at the wood in person, but of course at the moment this isn't possible due to Covid 19.  Goodness only knows what will happen when we eventually come out of this pandemic, but one thing's for sure, there won't be a ready supply of old Brazilian rosewood.
If you have any queries, email stefan@sobellguitars.com or telephone 01434 673567 and leave a message if I don't answer.
Click on images for full screen view and again to magnify
Sold £800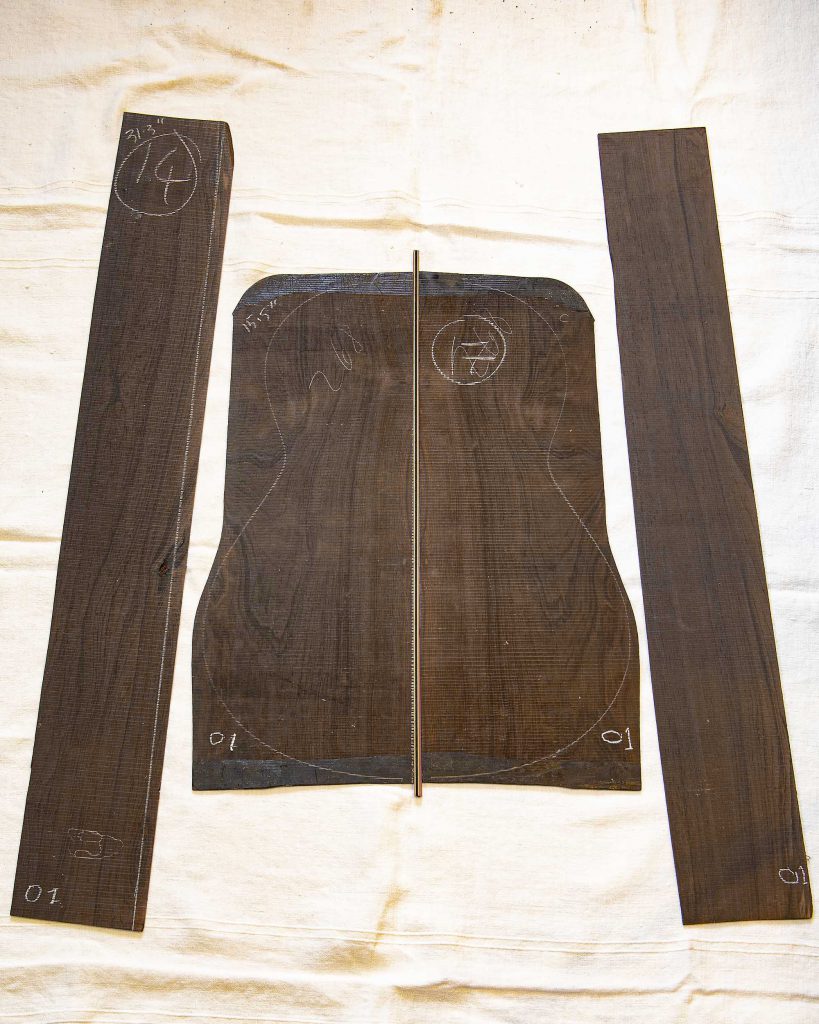 No 01  Dark chocolate colour
Back 15.5″ (394 mm) wide, 20″ (505 mm) long.
3.4 mm thick, 3 mm thick on one shoulder
Sides 31.3″ (795 mm) long, 4.3″ (110 mm) max width.
3 mm thick.
Sold £975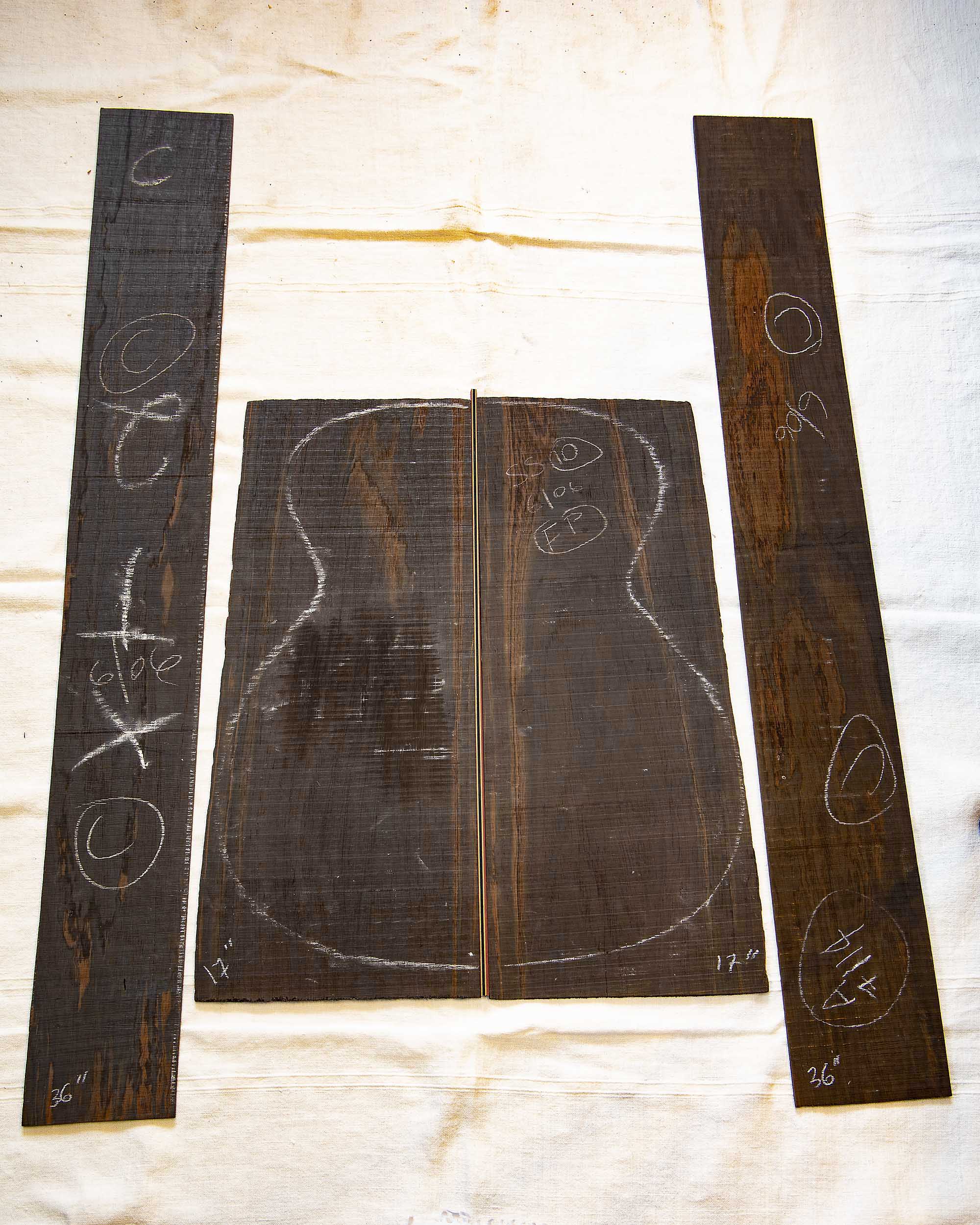 No 02  Dark chocolate with orange
Back 17″ (432 mm) wide, 21.2″ (536 mm) long.
4 mm thick.
Sides 36″ (914 mm) long, 4.6″ (116 mm) wide.
4 mm thick.
Sold £900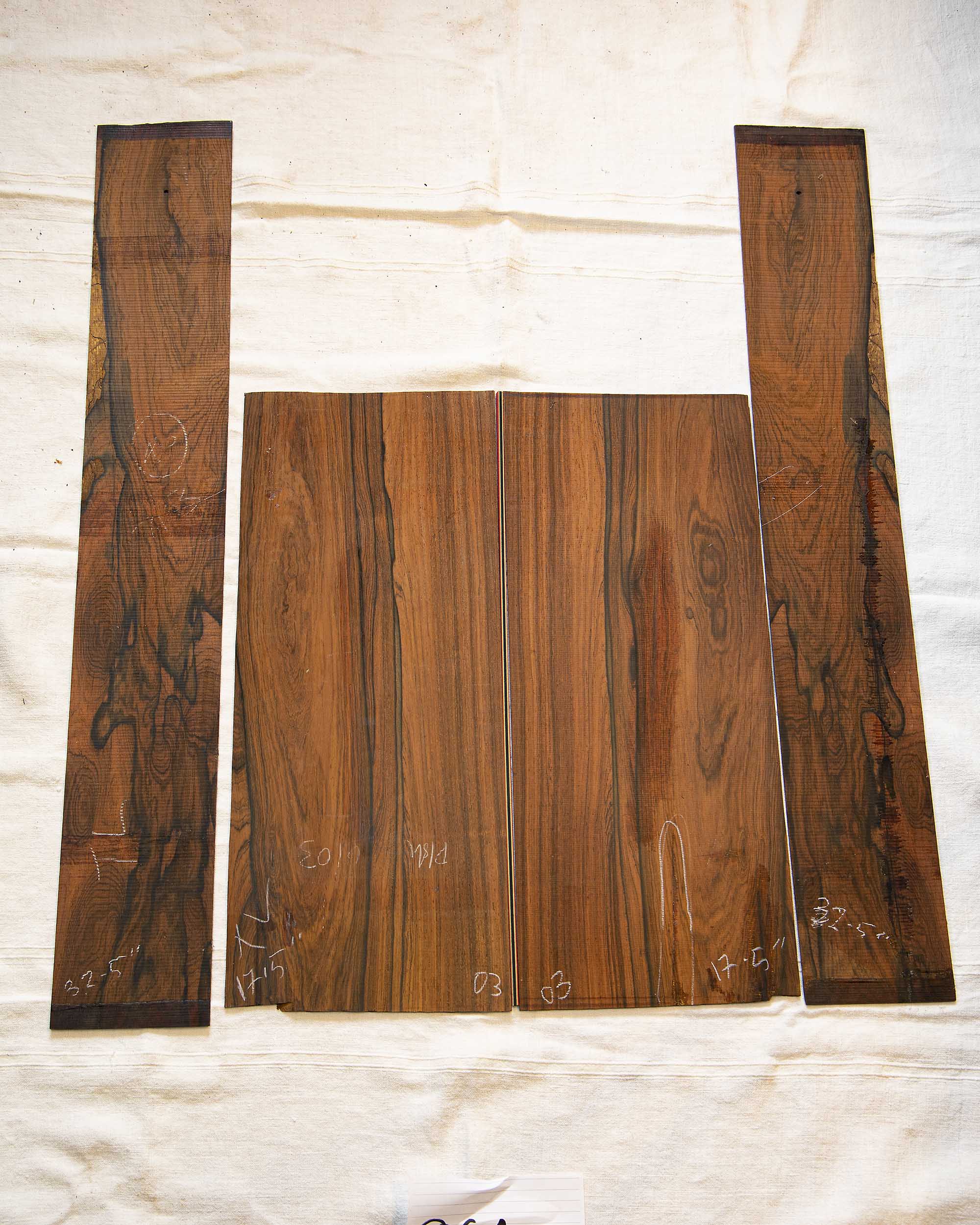 No 03      Decorative orange and black
Back 17.5″ (444 mm) wide, 21.5″ (545 mm) long.
3.75-4 mm thick.
Sides 32.5″ (825 mm) long, 4.8″ (123 mm) wide.
Glued crack in one side. 3 mm thick.
Reserved £750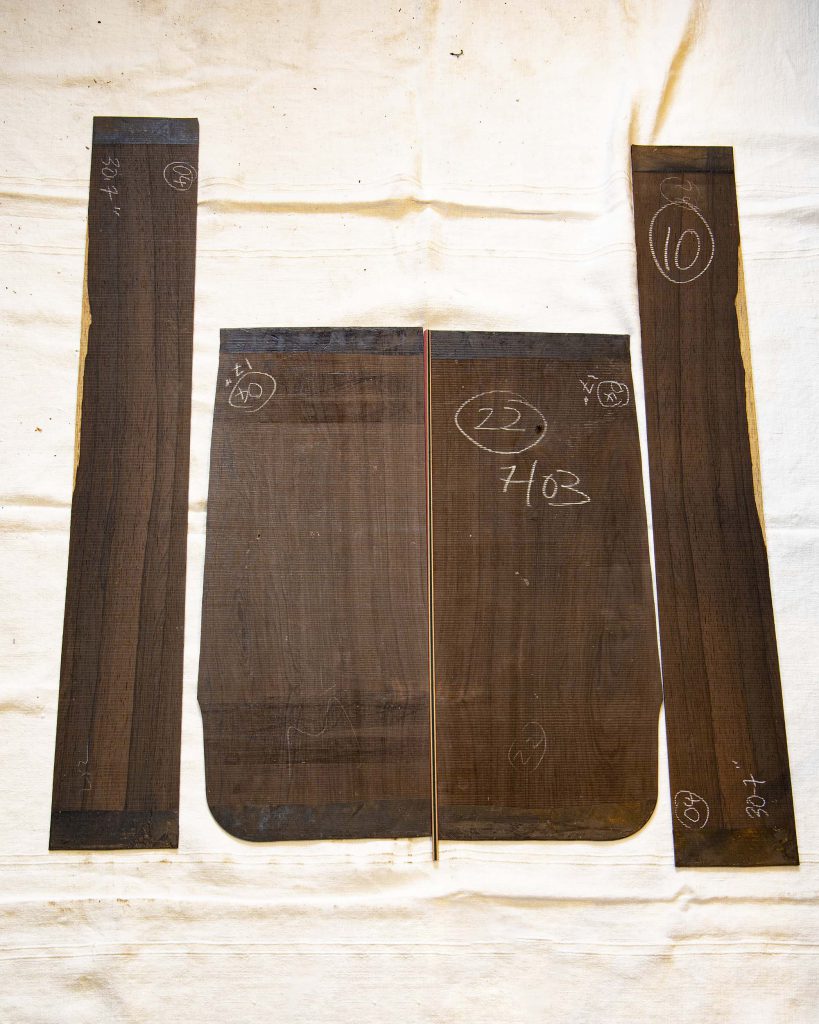 No 04  Dark chocolate brown   
Back 17″ (432 mm) wide, 21.7″ (525 mm) long.
3.5 mm thick.
Sides 30.6″ (780 mm) long  3 mm thick.
Sold £900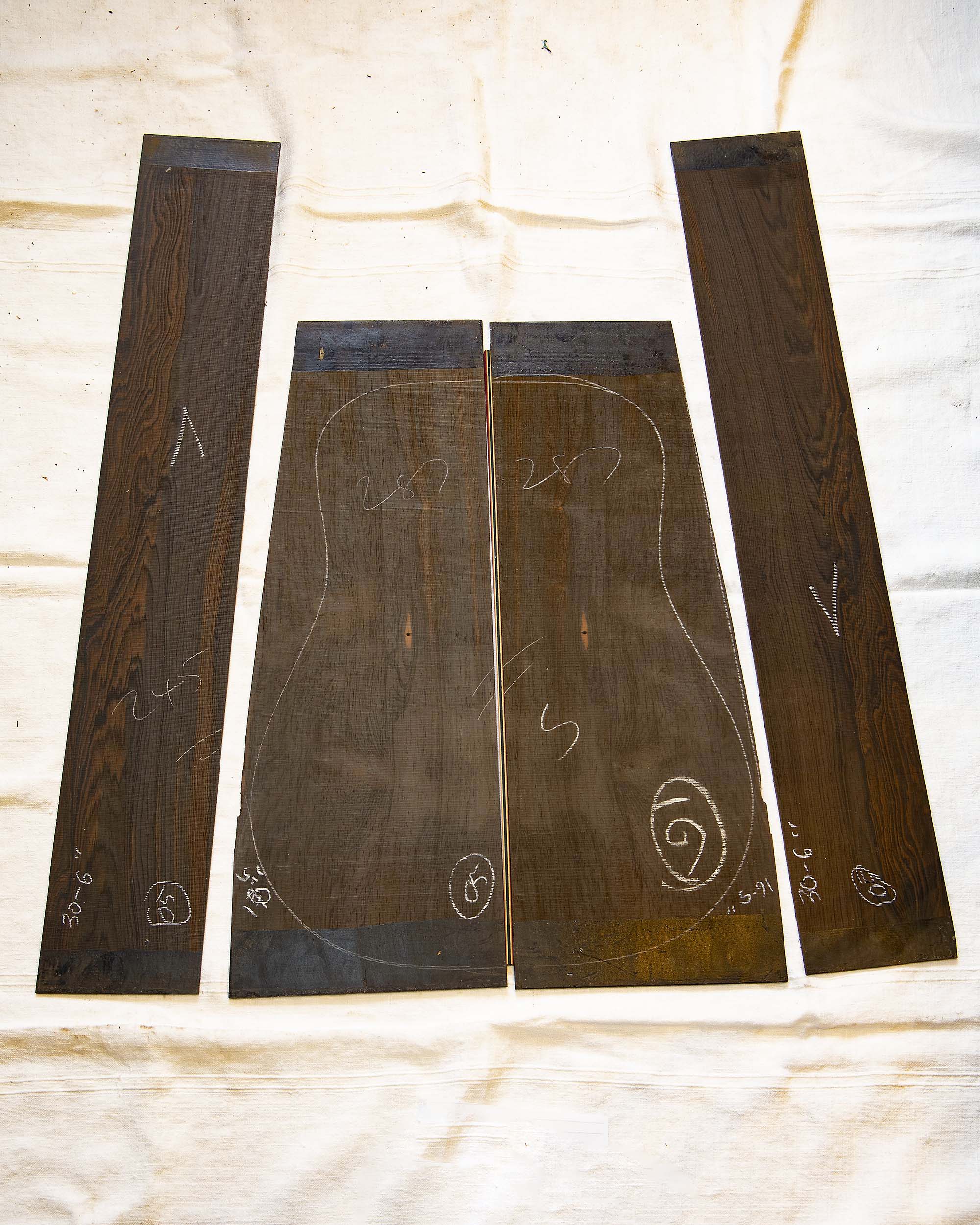 No 05  Chocolate brown plus orange
Back 16.5″ (419 mm) wide, 23.25″ (590 mm) long.
3.5 mm thick.
Sides 30.6″ (780 mm) long, 4.9″ (123 mm) wide
3 mm thick.
Sold  £1100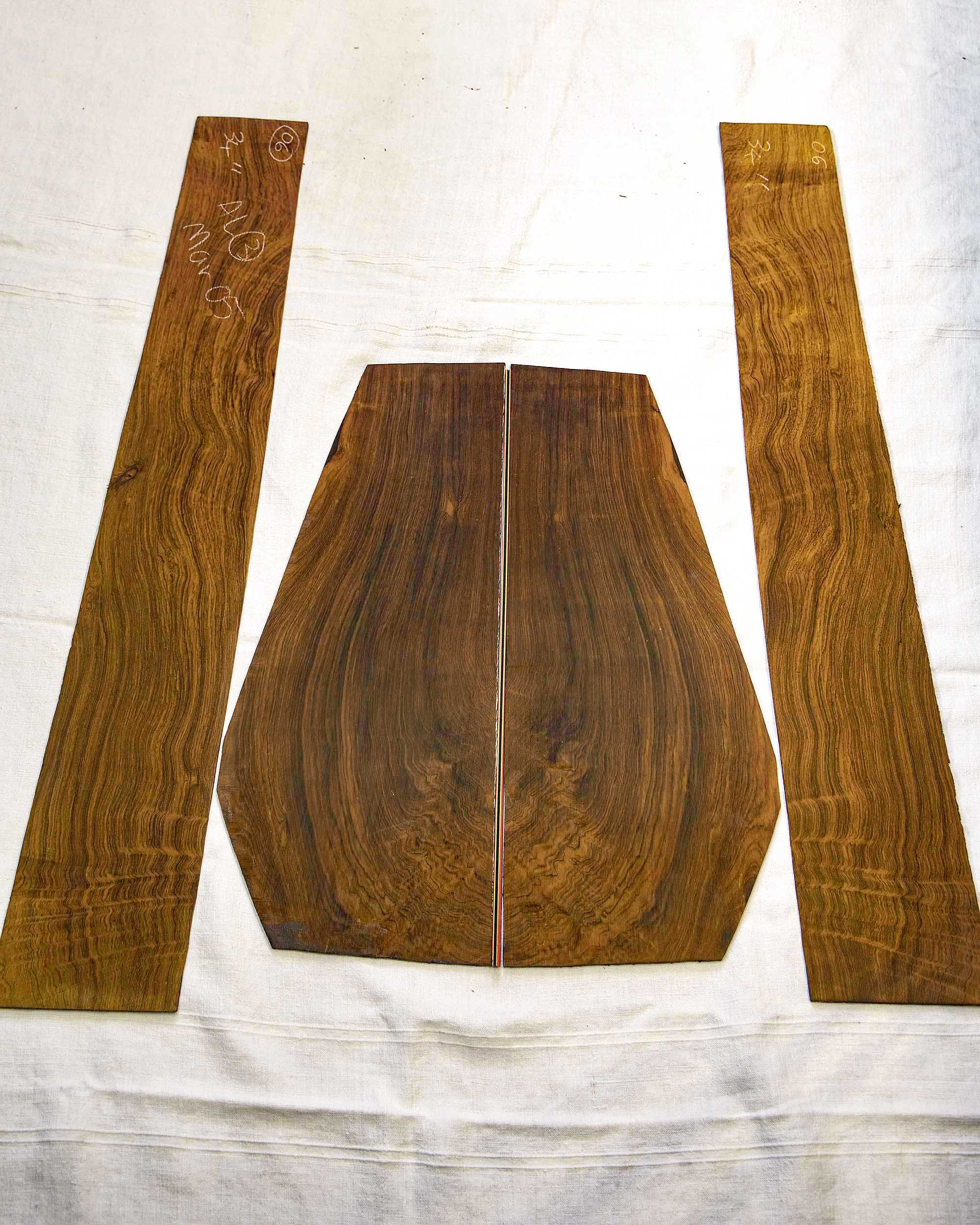 No 06   Orange with dark lines
Back 18″ (457 mm) wide,21.3″ (543 mm) long.
4.5 mm thick.
Sides 34″ (863 mm) long,
5.7″ (144 mm – 4.52″ (115 mm) wide, 4.2 mm thick.
Sold  £750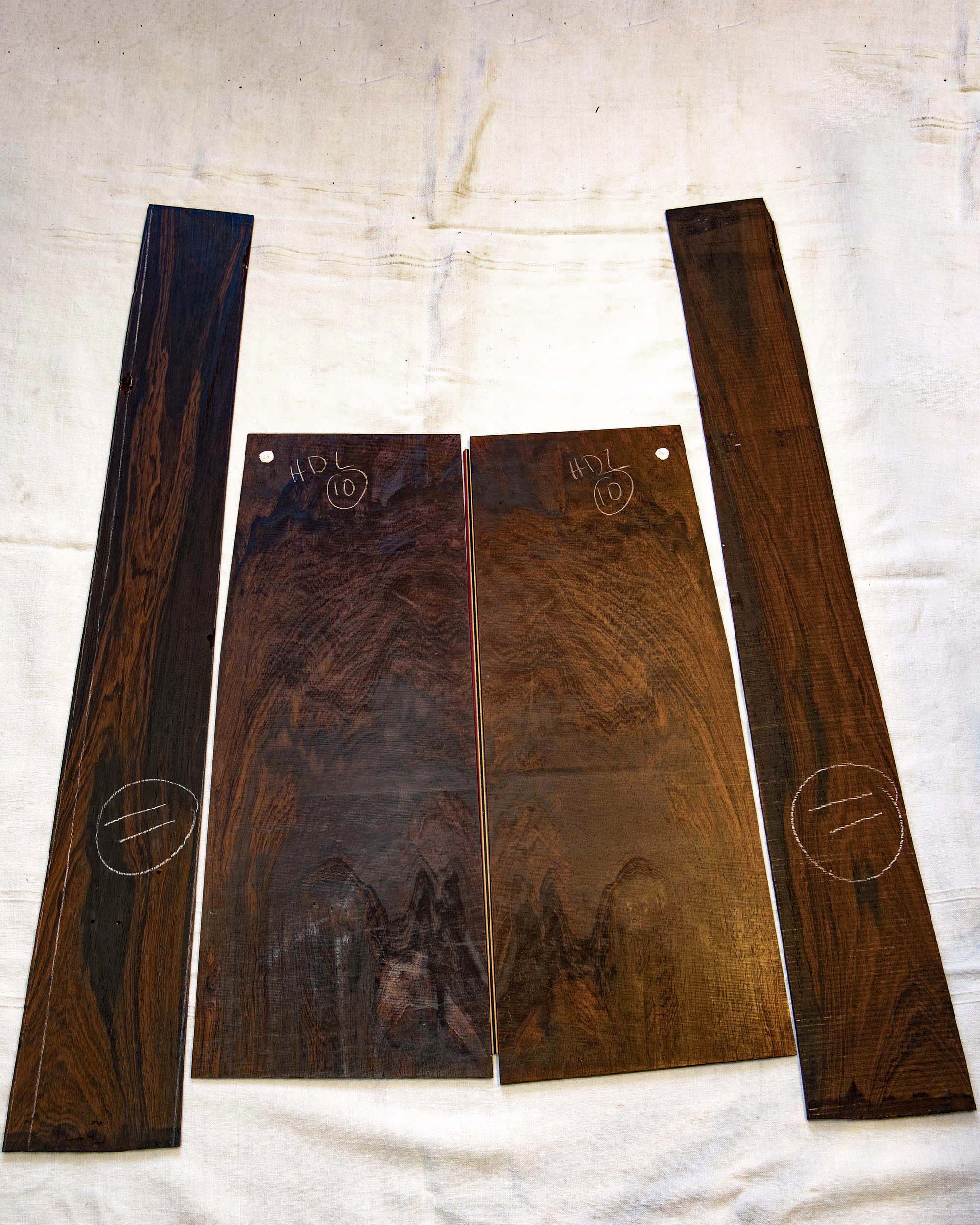 No 07   Dark brown and orange/red
Back  18.5″ (470 mm) wide, 22.7″ (576mm) long.
One half 6-5 mm thick, other half 3.5-2.5 mm thick.
Sides  34″ (870 mm) long, 5.2-4″ (133-103 mm) wide. 4.2 mm thick. Shake in one side.
Sold  £1200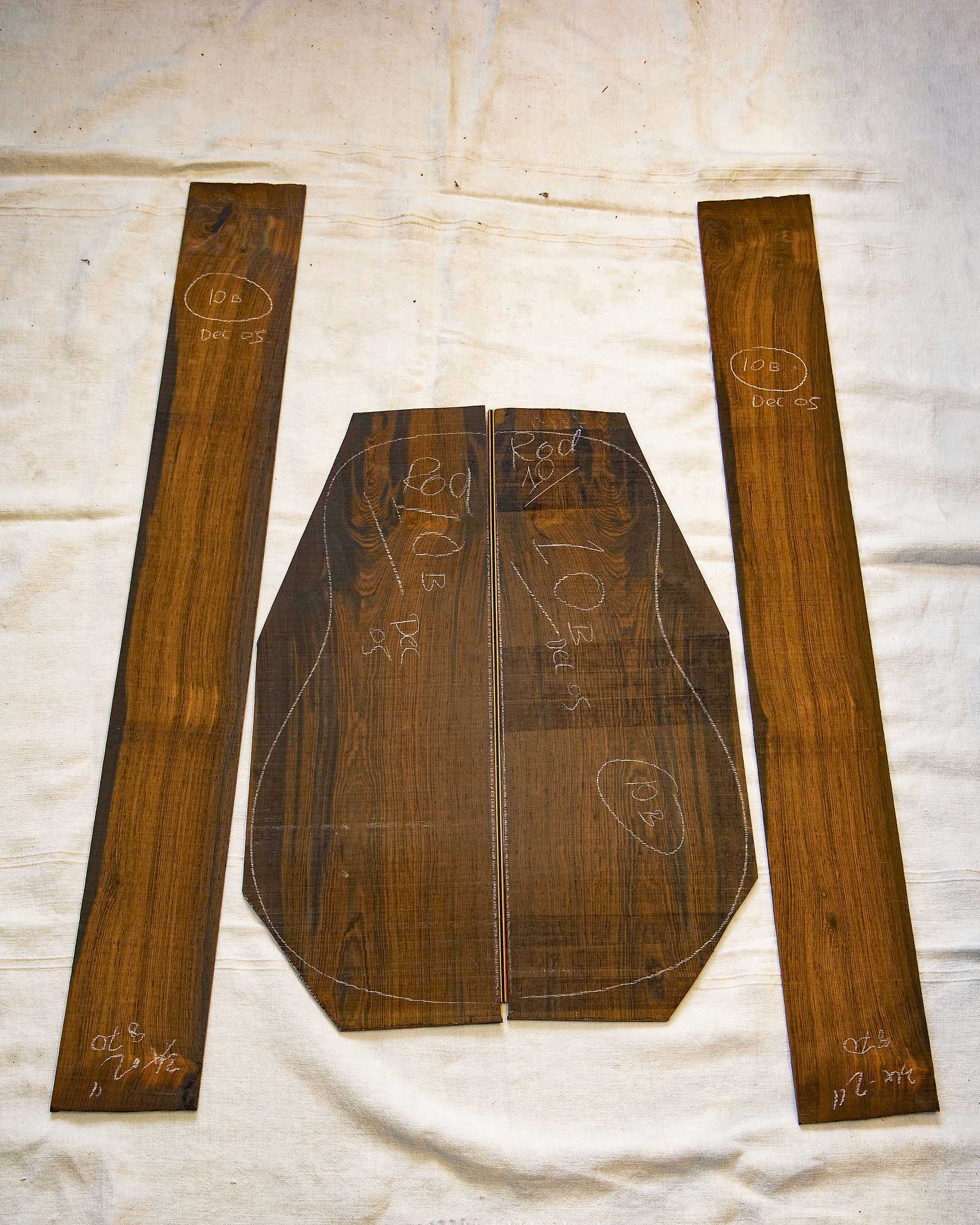 No 08   Orange and nearly black
Back 16.3″ (420 mm) wide, 22″ (560 mm) long.
4.5 mm thick
Sides 34.2″ (870 mm) long, 4.4″ (111 mm) wide
5 mm thick
Sold £950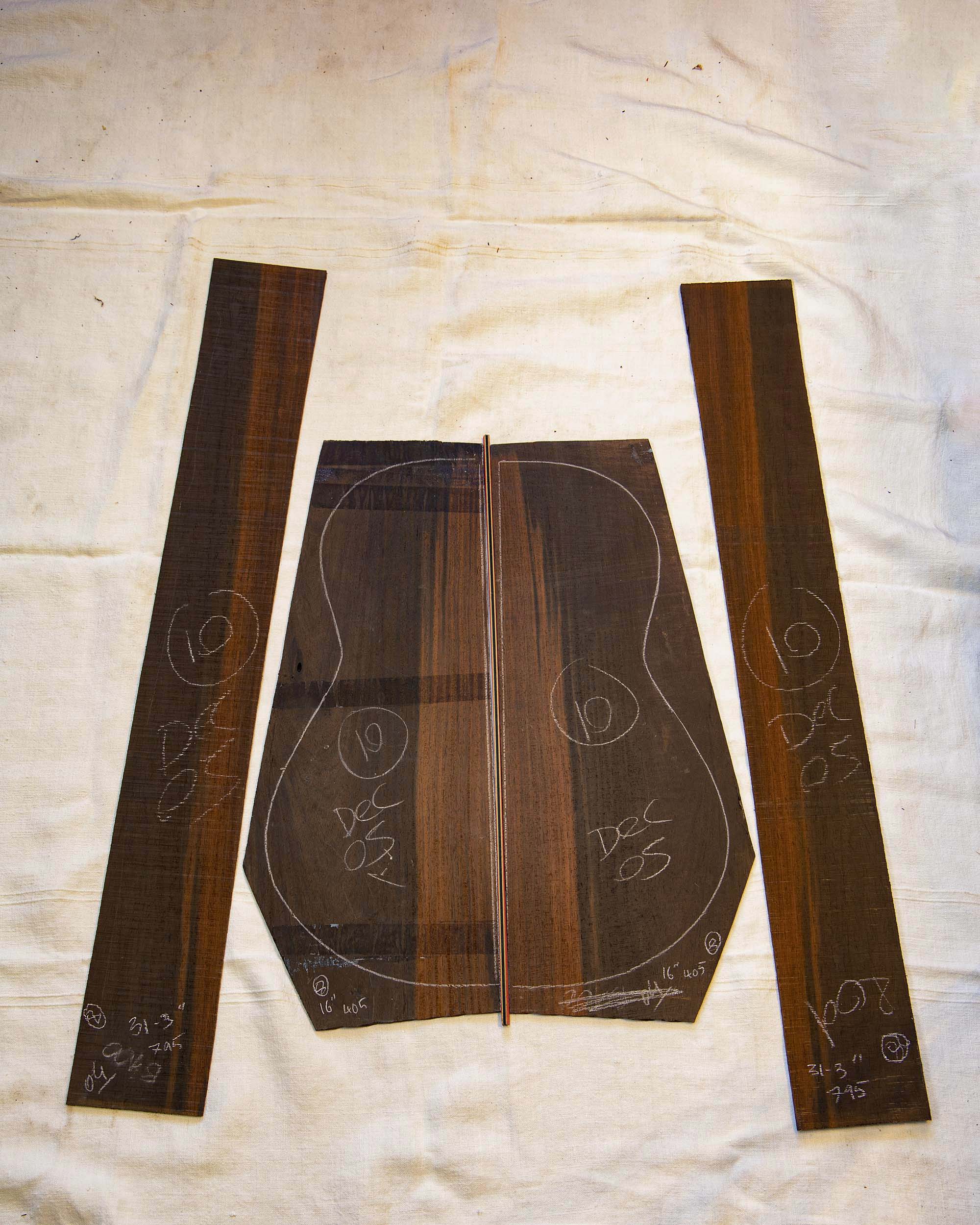 No 09   Nearly black and orange
Back 16″ (405 mm) wide, 20.7″ (527 mm) long
4.5 mm thick
Sides 31.3″ (795 mm) long, 4.2″ (105 mm) wide
4 mm thick.
Sold £950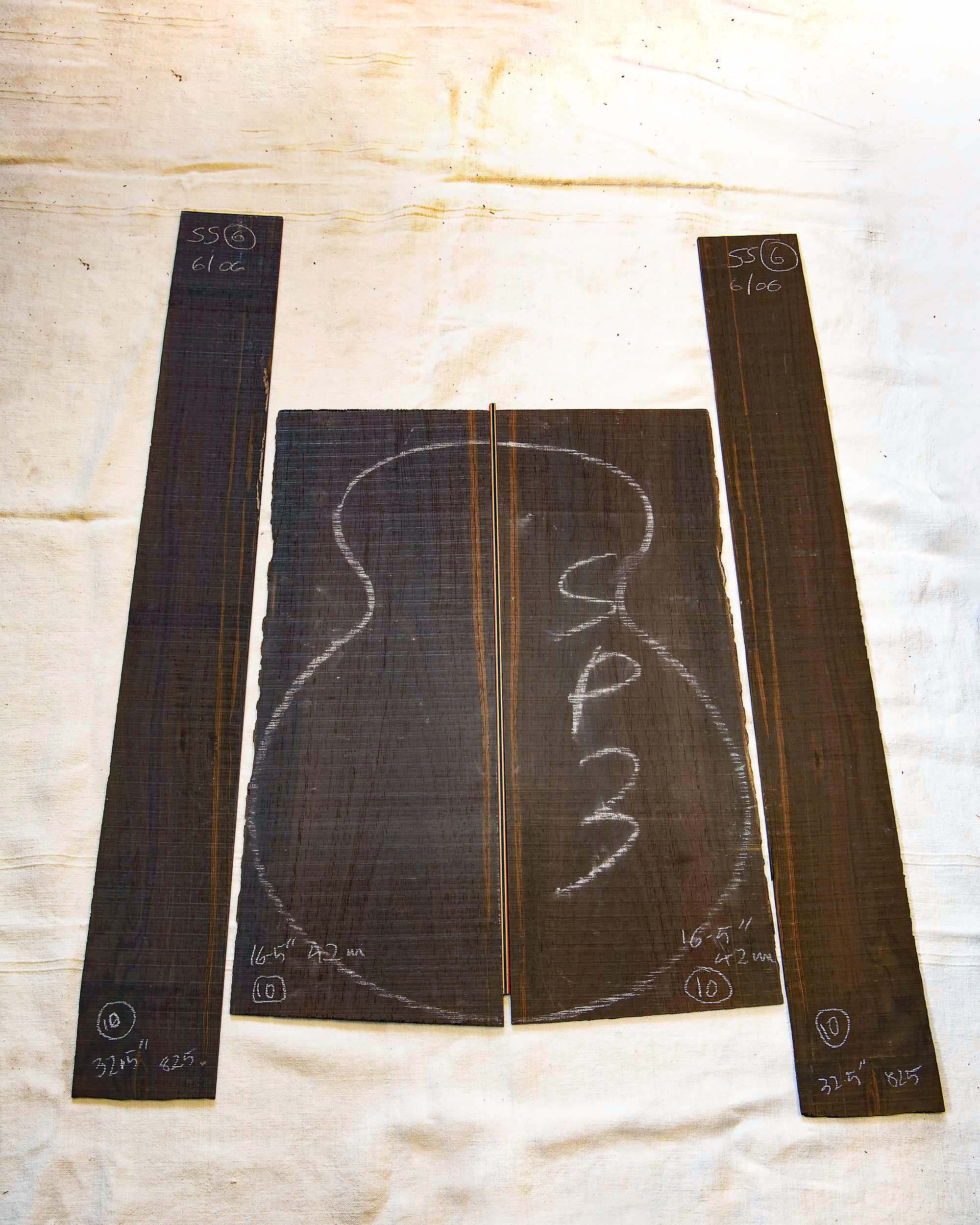 No 10   Almost black with orange streaks
Back 16.5″ (420 mm) wide, 21.8″ (554 mm) long.
3.6 mm thick.
Sides 32.5″ (825 mm) long, 4.4-3.8″ (110-97 mm) wide.  4 mm thick.
Sold £500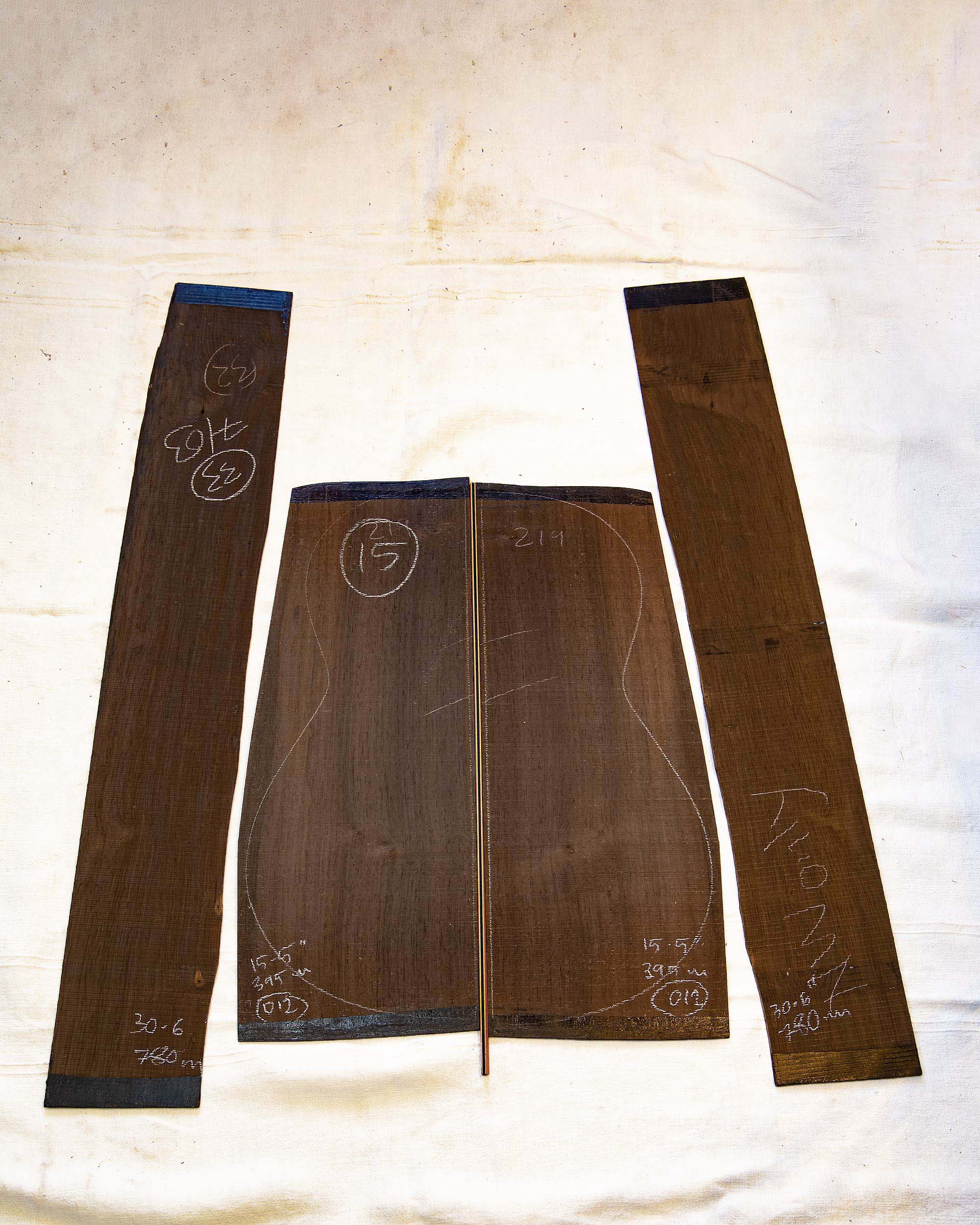 No 12        Medium dark brown
Back 15.5″ ( 395 mm) wide,  20.2″ (512 mm) long
3 mm thick.
Sides 30.6″ (780 mm) long, 4.8-4.7″ (123-120 mm) wide. 3 mm thick.
Brazilian rosewood scantlings
As well as wood cut for sets, I have some Brazilian rosewood scantlings, pieces approximately 2″ x 3″ and of varying lengths.  These are excellent quality dark wood, and many of them are highly decorative, though as the outside has oxidized, they must be cut open to see this.
I have built several beautiful guitars with these scantlings, with backs made up of five or six matched pieces and sides of two pieces – see the photos above.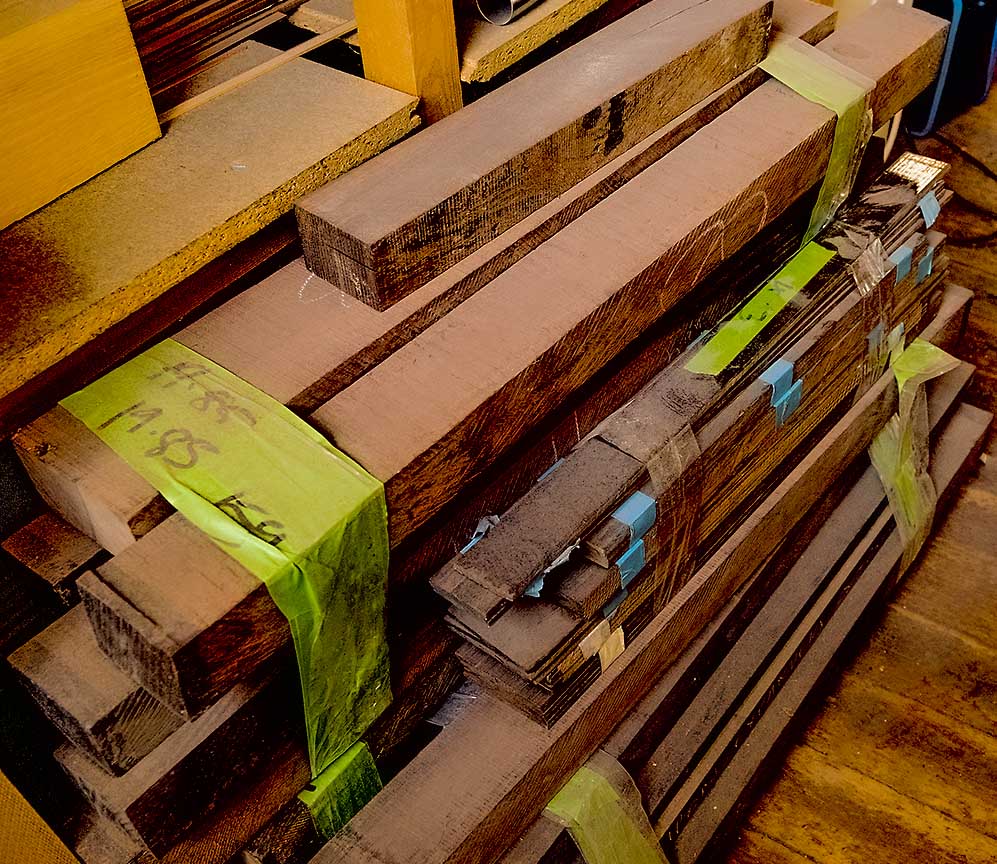 The number of pieces used does not affect the sound, the quality of the wood is everything.  Building with scantling wood involves additional work reinforcing the extra back and side joins (photo above), but the guitars I've built with this wood have been among my very best.  The guitar shown earlier is Martin Simpson's 2005 MS Mk 2 model, for many years his main concert guitar.
The scantlings are shown on the left, with a couple already cut into five or six pieces.  I shall be offering scantlings for sale at a later date.
Joining thicknessed backs
Some of the Timberline backs are thinner than is usual.  Mostly this is not a problem, but if one or both sides have moved at all, it could be hard to align the halves (or more for multi-piece backs) accurately when gluing them together.
I devised a system to deal with this, I don't know if other makers use this method.
1. First, instead of joining the back before sanding, I sand both sides (or all multi-piece back pieces) AND the central decorative strip to the final thickness.  I dress the joint edges in the usual way. These are then placed on a flat board as here, and held together without glue; I use a few pins.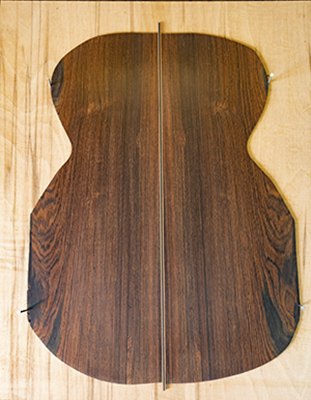 2. Next I prepare the joint reinforcement in the usual way, here it is ready to glue.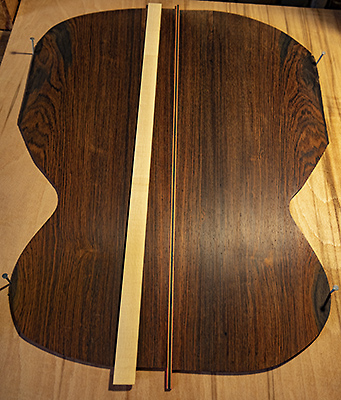 3. I glue the reinforcing strip in place in the go-bar jig.  I make sure there is clear tape under the join, so there is no possibility of gluing the back to the board.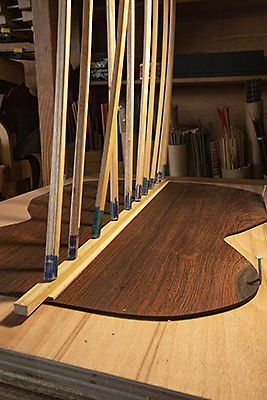 4. Here is the spruce reinforcement glued in place.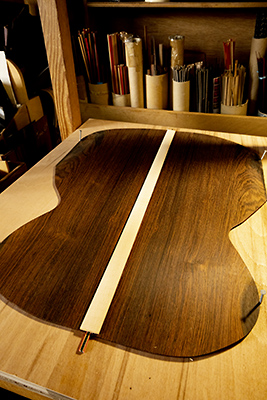 5. When the back comes out of the go-bar jig, I turn it over and run thin superglue into the joins, followed by thick superglue on top of the joins, leaving overnight to dry.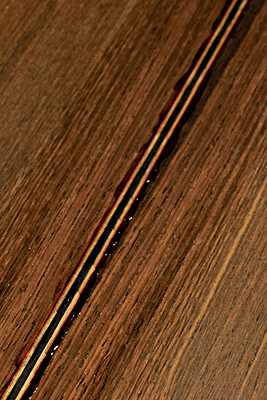 6. After scraping back the superglue, here is the joined back with the two halves and the centre strip perfectly aligned.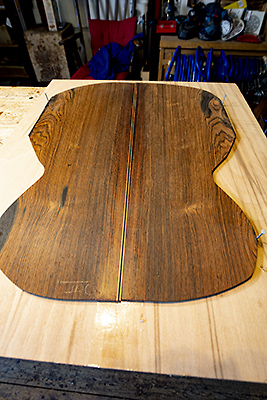 Exporting and Importing Brazilian rosewood
As long as Brazilian rosewood (whether or not built into an instrument) has APHA certification in the UK, in theory it can be exported.  It requires first an export certificate, and then an import certificate from the importing country.  These must be shown and signed at both departure and arrival ports/airports, only a few of which are set up for this process.
Importing requires an export licence from the exporting country and an import licence from the UK, presumably from APHA, with the same customs signing requirement.
For a particularly important or valuable instrument, it may be worth jumping through these hoops, but I think for guitar sets at the moment it just isn't worthwhile.  So for the time being I'm not offering sets outside the EU.  I will make enquiries as to the process of exporting to the EU when Britain has, sadly, left.
.
Dark brown Brazilian
While very decorative Brazilian rosewood is clearly attractive, I love the sober chocolate brown wood, which has been the standard Brazilian for centuries..
Here is a three piece chocolate back on a 2005 Martin Simpson model.  With contrasting binding and dividers it can be dramatic in its own way.  Expanders can be either straight, as here, or tapered, as below.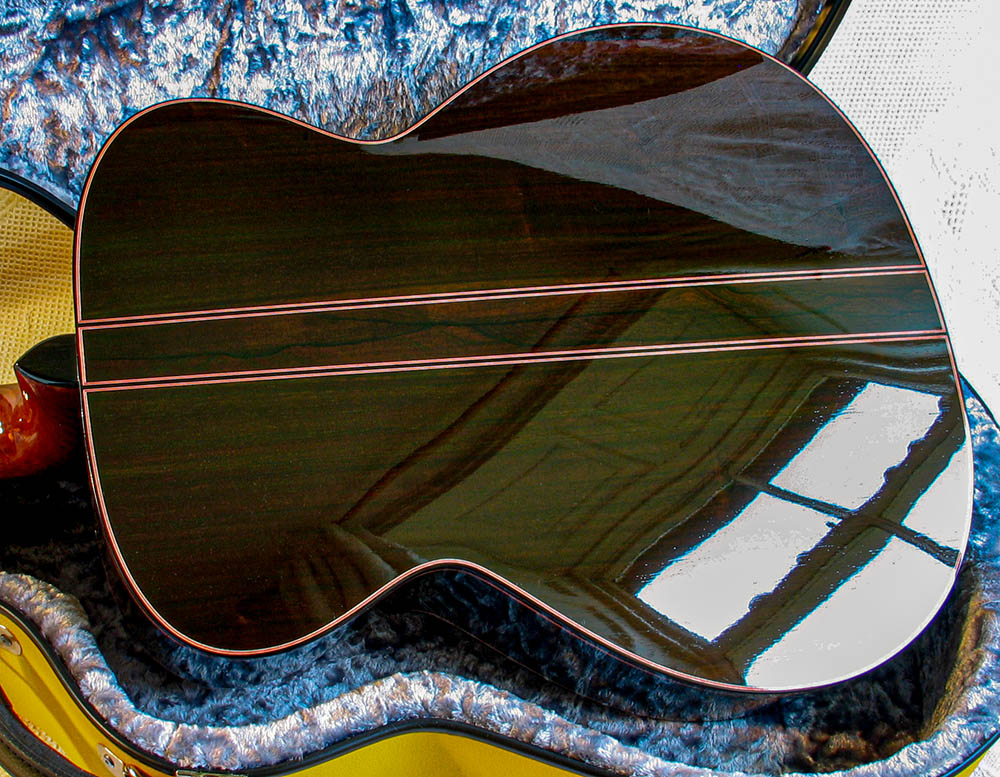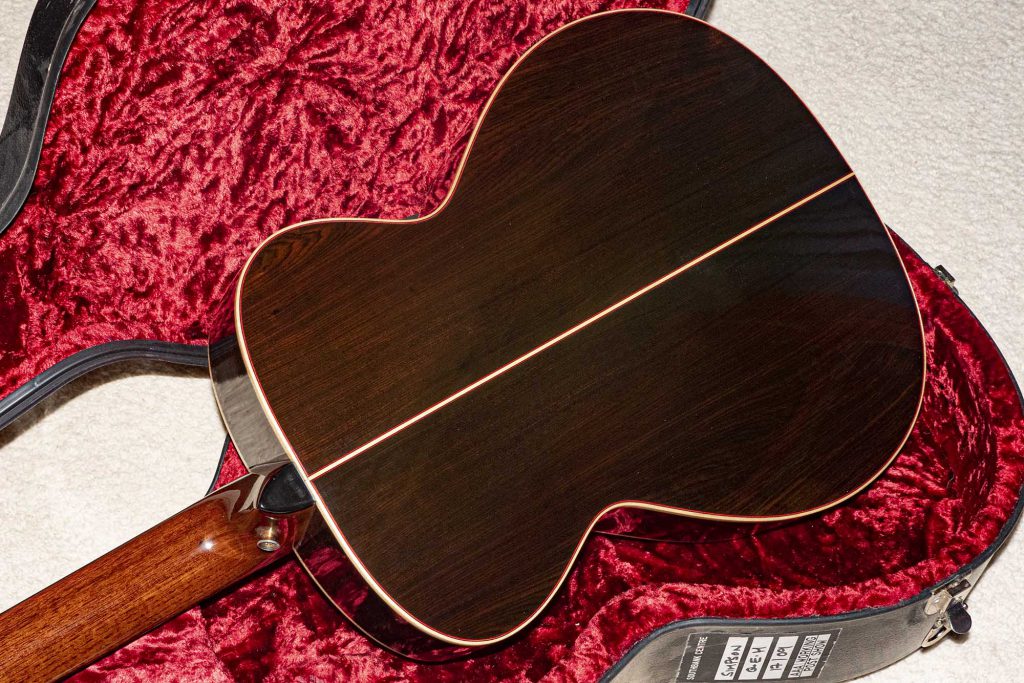 Chocolate brown two piece back.  Sober and elegant.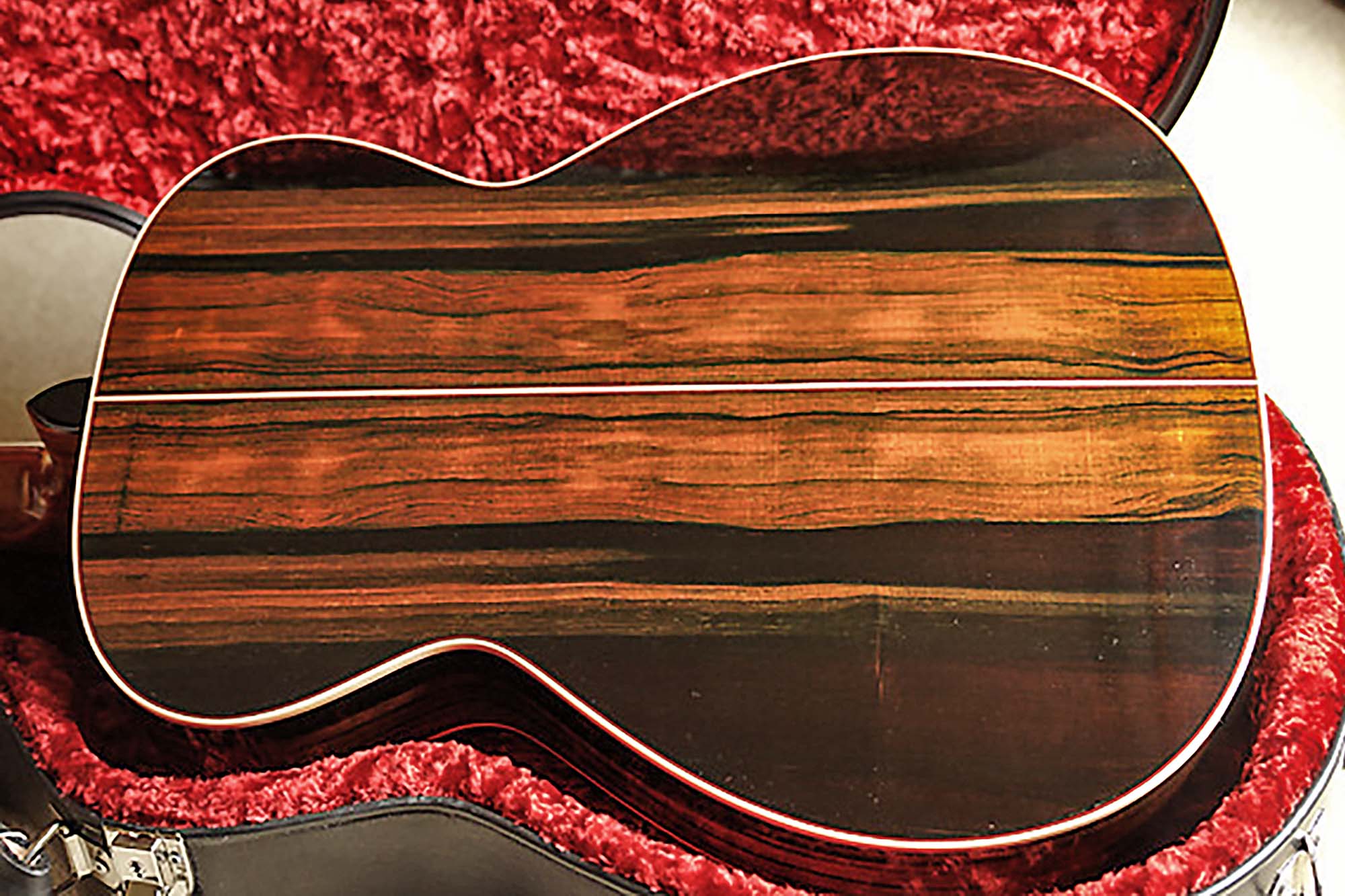 Orange and chocolate wood.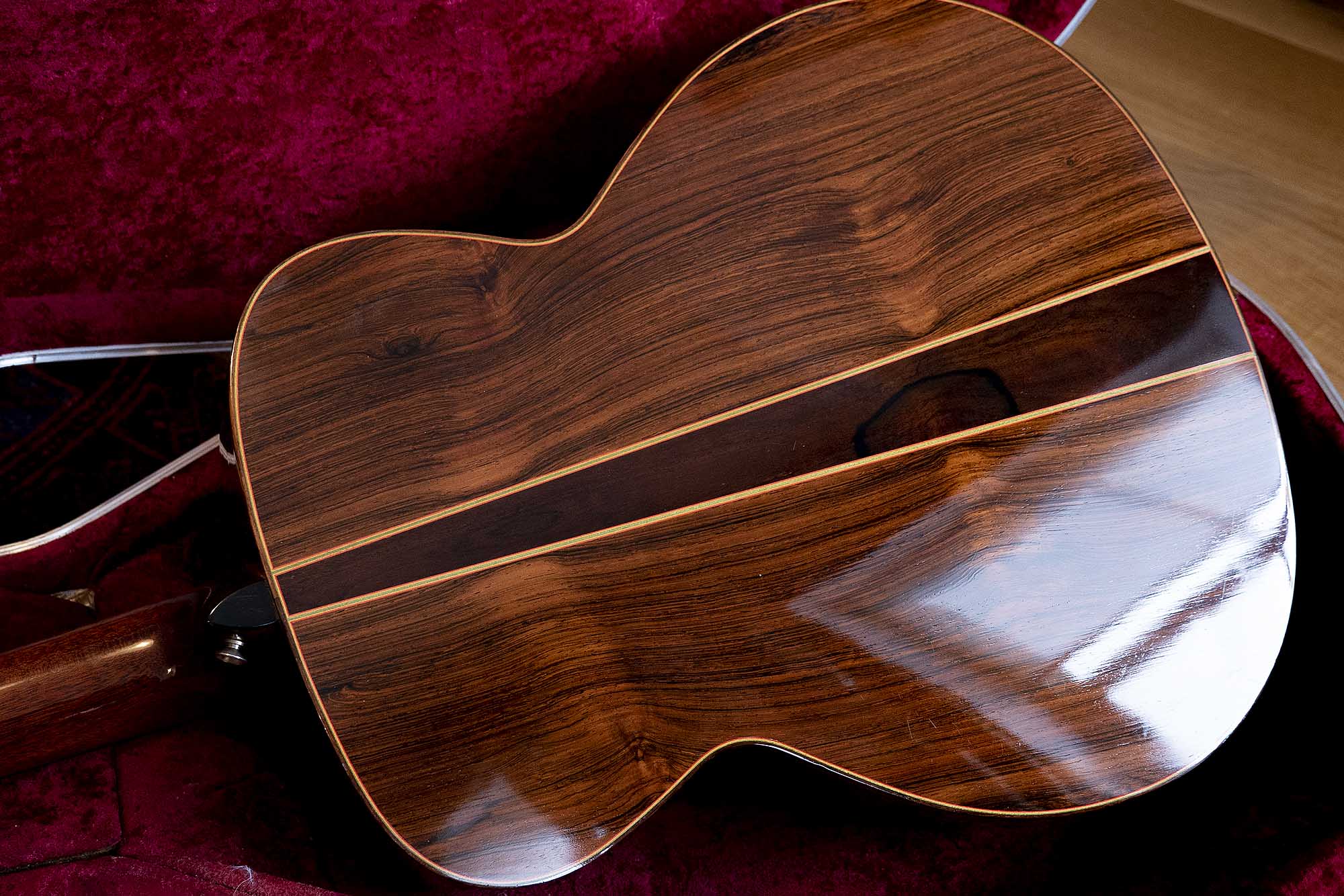 Decorative back with contrasting dark tapered expander.