New World model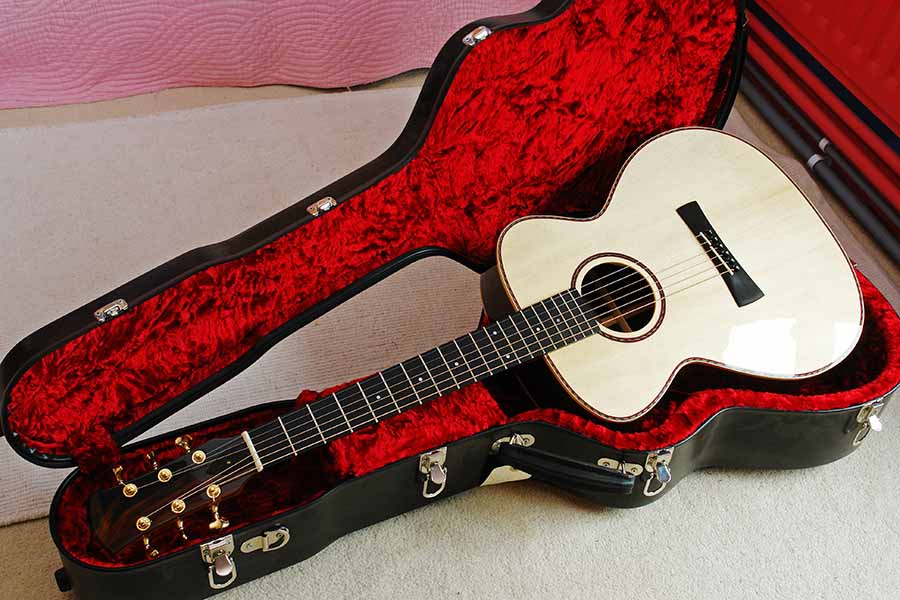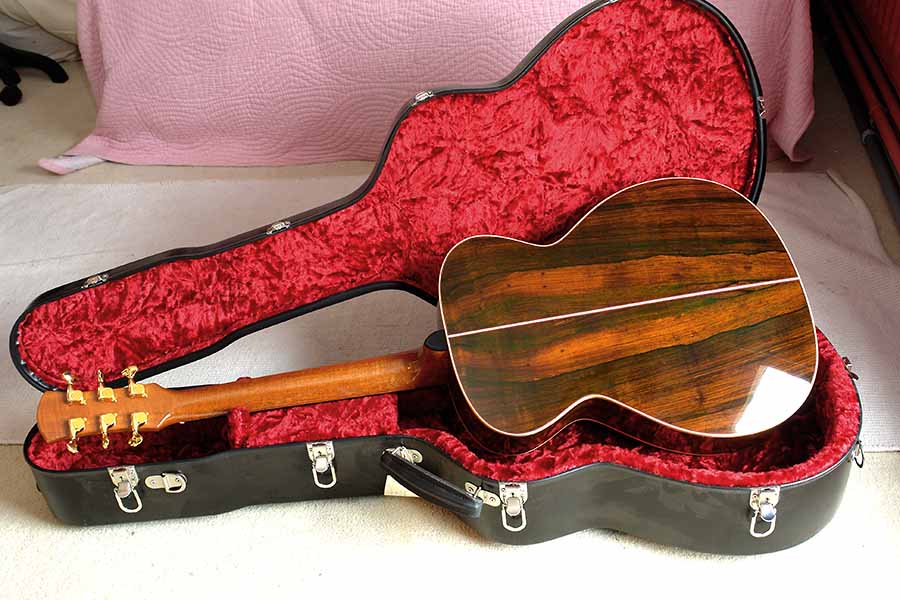 Bearclaw Sitka New World guitar
In early 2014 I built a New World guitar with a Bearclaw Sitka soundboard.  I'd avoided Sitka as a soundboard material for many years, but I was tempted by the lovely looking Sitka I came across in north west USA many years ago, especially the figured wood.
Different players like different sounds, but I personally love both the look and the sound of this guitar.
In 2006 I designed and built a new guitar inspired by the classic small US guitars of the 20s and 30s, in particular one I heard played many years ago by Stefan Grossman.
Although built in factories, these guitars were basically hand made by skilled craftsmen using the high quality materials then readily available. The best were outstanding instruments, built mostly with Brazilian rosewood back and sides and Adirondack spruce soundboards.
My new guitar was a little over 000 size with a 25.3″ scale and more lightly built than both the Martin Simpson Signature Model and Model 1. I call it my New World Model in recognition of its American inspiration.
The New World model offers excellent playability and accessibility; different from the Martin Simpson model sound but every bit as good in its own way. It is admired by all who play it, and at the time of writing is my most popular guitar.
Construction
The soundboard is German or figured Sitka spruce, supported by a lighter development of the MS Signature model bracing pattern.
The back and sides are African Blackwood or Malaysian Blackwood; while I no longer build with Brazilian rosewood because of CITES restrictions, both these Blackwoods make lovely sounding guitars.
The neck has a gentle 'V' profile and is made of Mahogany, with Wengé available as an option. The fingerboard and bridge are ebony, tuners are Gotoh 510 with optional black buttons.
The binding is maple with red and black purfling around back and sides, and birdsfoot and red and black purfling around the top and soundhole. Other trims are available.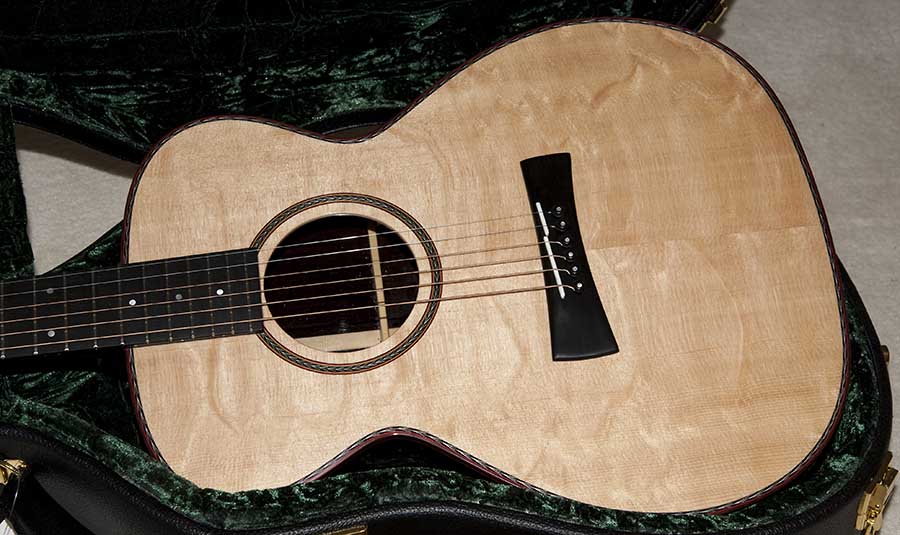 Sound
The New World has the more delicate sound you would expect from a smaller bodied guitar, but this is not at the expense of volume or bass response; it's clear and clean and the smooth bass comes over loud and clear under the treble without in any way drowning it out.
The slightly shorter scale (as compared with my other guitars) makes it particularly playable, but the bass still tunes down to D and C comfortably.
It has been suggested  this is the perfect song and tune writing guitar, but as well as this it has all the volume and projection you could want for performance.  And it records particularly well because of its balance and resonance.
The New World is the guitar I find I pick up most readily any time I feel the urge to play guitar.
On the left is an assortment of (mostly) New World photos – click on them to enlarge.

John Wheeler's New World guitar
In 2007 I built an experimental New World with a Carpathian soundboard and Madagascar rosewood neck for John Wheeler of Hayseed Dixie. 'It really rings' he said as soon as he tried it. It clearly suits his energetic cross-picking plectrum style.
John says:
'The guitar is absolutely fantastic.  She has a personality that is all her own.  I have been courting her for several months now, and yet I still always feel the warm scent of possibility on the breeze every time I pick her up.  She's an elusive girl, with her own will and idiosyncrasies, but she keeps drawing me in at a primal level.

Quite honestly, I've never played anything like this guitar.  It is completely different from any other guitar I've ever experienced.  It is also the most responsive.  I am suddenly hearing the way that notes stack up harmonically in an entirely new way, as well as hearing every place that I need to adjust my own playing to actually take advantage of the new subtleness in the soundspace that's now available to me.  I do reckon that Stefan is making the finest instruments in the world.  I say that without qualification.'
New World Specifications
| | |
| --- | --- |
| Soundboard: | German or figured (Bearclaw) Sitka spruce |
| Back and sides: | African or Malaysian Blackwood |
| Neck: | Mahogany, Wengé optional |
| Fingerboard: | Ebony |
| Bridge: | Ebony with two piece bone saddle |
| Binding: | Maple with red and black purfling, others optional |
| Trim: | Birdsfoot edging with red and black purfling, others optional |
| Body Width: | 402mm (15.8″) |
| Body Length: | 495mm (19.5") |
| Max body depth: | 101mm (4.0") |
| F/b width at nut: | 1.75″ (45 mm), others optional |
| Scale: | 643mm (25.3") |
| Tuners: | Gold Gotoh 510 with black buttons, others optional |
| Pickup (optional): | Highlander |