Steinbeck Model Guitar
I first read John Steinbeck's Grapes of Wrath nearly fifty years ago, and his account of a guitar being picked made such an impression that it has stayed with me ever since.  When I built my  second Malaysian Blackwood/Bearclaw Sitka guitar in 2015, Steinbeck's description came straight back to me.  So I've called this model my Steinbeck model.
There you have something — the deep chords beating, beating, while the melody runs on the strings like little footsteps.   Grapes of Wrath.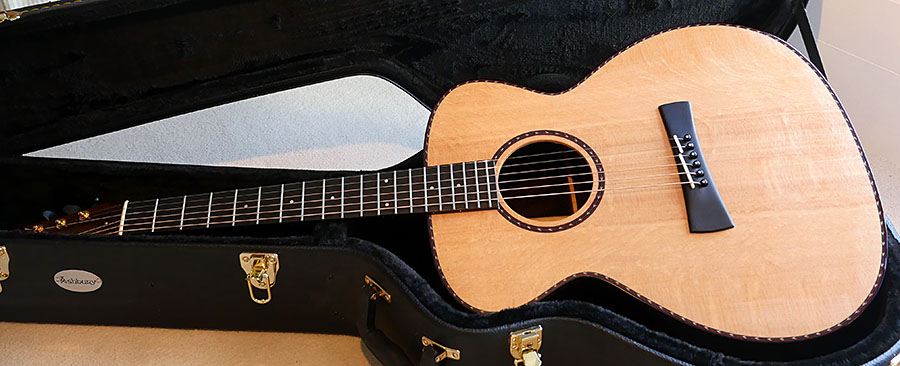 Developed from my Martin Simpson model, the Steinbeck model has modified bracing and is built with Malaysian Blackwood back and sides, a figured (also known as Bearclaw) Sitka soundboard, and a Wengé neck.
It is built for light strings and is wonderfully responsive, with surprising volume from the gentlest touch. It has a strong clean bass, with a bright full mid range, and a strong clear treble.
Here is Paul Hostetter with his Steinbeck Model. Paul lives in California and fell in love with it when he visited me. He says his guitar has come home to Steinbeck country.
Specifications
| | |
| --- | --- |
| Soundboard: | Figured (bearclaw) Sitka |
| Back and sides: | Malaysian Blackwood |
| Neck: | Wengé |
| Fingerboard: | Ebony |
| Bridge: | Ebony with two piece bone saddle |
| Binding: | Black with red gold and green purfling |
| Trim: | Birdsfoot edging with red and white purfling |
| Body Width: | 16.3″ (415 mm) |
| Body Length: | 495mm (19.5") |
| Max body depth: | 120mm (4.74") |
| F/b width at nut: | 1.75″ (45 mm) |
| Scale: | 650mm = 25.6" |
| Tuners: | Gold Gotoh 510 with black buttons, others optional |
| Pickup (optional): | Highlander, internal or external battery |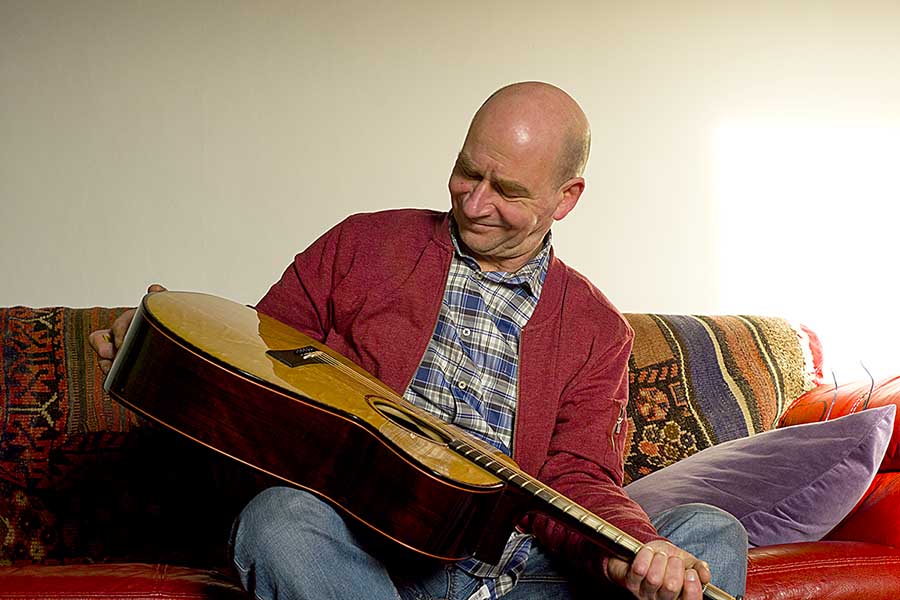 Rens van der Zalm collecting the first Steinbeck guitar in January 2015. In September he wrote to me:
I am here in Budapest with Andy (Irvine) and the rest of the Mozaiks to record and I just wanted to tell you that the Steinbeck guitar is just absolutely amazing. It keeps growing and the tone … This is a true masterpiece (as Donal Lunny put it) It sings and gives you the impression that you hear a beautiful guitar being played in a cathedral.
It IS the best guitar I have ever played!!! No doubt.
From Steinbeck's 'Grapes of Wrath'
And perhaps a man brought out his guitar to the front of his tent. And he sat on a box to play, and everyone in the camp moved slowly in toward him, drawn in toward him. Many men can chord a guitar, but perhaps this man was a picker. There you have something — the deep chords beating, beating, while the melody runs on the strings like little footsteps. Heavy hard fingers marching on the frets. The man played and the people moved slowly in on him until the circle was closed and tight, and then he sang "Ten-Cent Cotton and Forty-Cent Meat." And the circle sang softly with him. And he sang "Why Do You Cut Your Hair, Girls?" And the circle sang. He wailed the song, "I'm Leaving Old Texas," that eerie song that was sung before the Spaniards came, only the words were Indian then.
And now the group was welded to one thing, one unit, so that in the dark the eyes of the people were inward, and their minds played in other times, and their sadness was like rest, like sleep. He sang the "McAlester Blues" and then, to make up for it to the older people, he sang "Jesus Calls Me to His Side." The children drowsed with the music and went into the tents to sleep, and the singing came into their dreams.
And after a while the man with the guitar stood up and yawned. Good night, folks, he said.
And they murmured, Good night to you.
And each wished he could pick a guitar, because it is a gracious thing.

Wenge neck and Malaysian Blackwood back and sides