Indian rosewood for sale
Between 1990 and 2003 I bought Indian rosewood regularly. Nearly all came from Touchstone Tonewoods in Reading.  About half were classical guitar size (to be used for cittern builds) and half full size acoustic guitar sets (described by Touchstone as Jumbo size).
These sets were all individually selected by me personally. While at the time, I was buying in sufficient quantity that not all were the absolute best, by current standards all would be judged excellent.
Left is a photo of perhaps half the sets I now have.  What I was thinking in buying so many mystifies me, but they've been there, stacked and stickered, air-drying for a minimum of seventeen years.
Properly dried wood makes better instruments. I have occasionally sold the odd set to other local builders, one of whom had Dave Wilson, who lacquers my guitars, lacquer his. Dave told me he could always tell when the guitar he was lacquering was made with my aged wood because when he put it to the polishing wheel, it rang in a way the others didn't.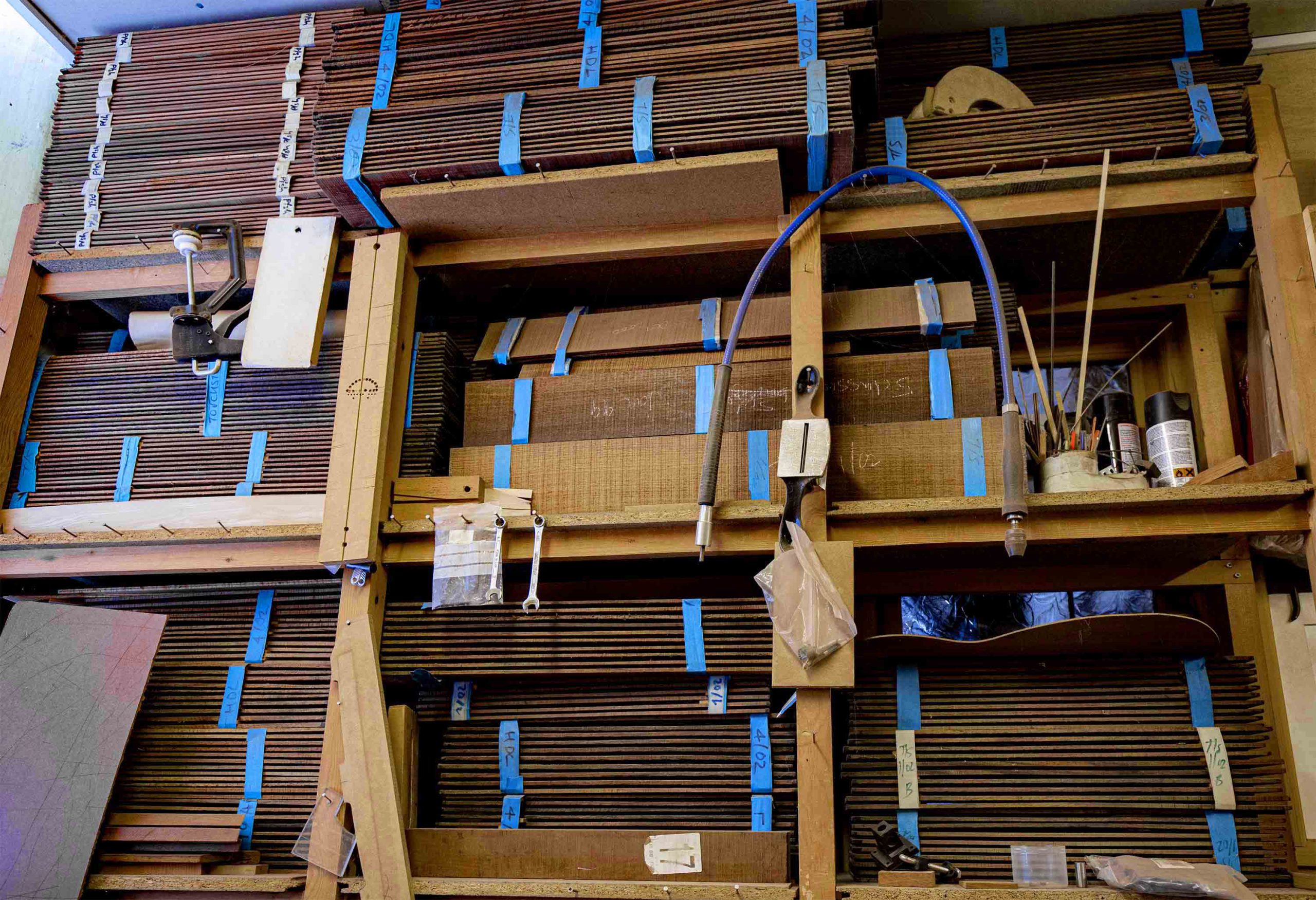 .
Around fifty years ago, when I started building, there were still a very few sets available with back and sides cut from the same board. This was an uneconomic way to cut wood.
As is universal now, all these were bought as packs of backs and packs of sides, to be brought together and matched with similar wood.
Left are Jumbo back and sides picked at random.  My Indian rosewood is stacked in packs of five backs and packs of five pairs of sides,  stickered as above so the air can get to all the wood.
I am pricing these aged sets, both Classic and Jumbo, at about the going rate for recently cut sets available elsewhere. However, I'm selling in packs of five, and not splitting into individual sets.
Pricing details to follow soon.