Soundboard carving change
For the last 25 years I've used a primitive copying machine hooked up to a router to carve my rough carved arch-top soundboards . These rough carved tops are oversize to the point that I can adjust them to allow for the stiffness of the wood and desired characteristics of the finished instrument. The final details and thicknesses are carved by hand.
Because the copying machine isn't as accurate as I would like, I have to leave more spare wood to remove by hand than is ideal, just to allow for unintended variations by the copier. This adds to the work required and makes achieving consistant results harder.
I'm now working with Haydn Williams to carve these rough soundboards on his computer controlled routing jig. It's an amazing machine which can carve complex and detailed 3D designs. These range from the size of a small coin up to objects nearly four feet long. Haydn has built this machine himself with components sourced mainly from ebay, a remarkable achievement.
The rough soundboards Haydn makes are carved from my wood to my design, with my arching and basic thicknesses. I can then fine tune them in my shop later. We've been talking about this for over a year, and I'm looking forward to finally getting results.
I've realised for many years I need to be dragged, screaming and kicking, into the 19th century. So this is progress.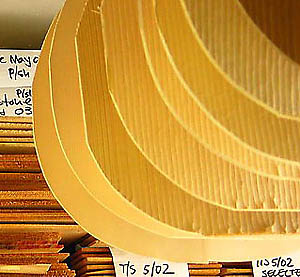 Mandolin overhaul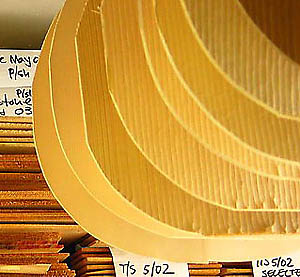 In the meantime I'm overhauling an early mandolin, of which I've had several to work on recently. Like many of my early instruments, this has a label but no date or serial number. From the telephone number (which has had digits added at least twice since) I believe it dates from the early 1980s.
It's in excellent basic condition, but needs a re-fret and new tuners. The tailpiece has been butchered, so I've made a new one (which has to match the existing holes in the tail).
The original bridge had been replaced by an ill-fitting unsuitable one, so I've made another which will also accept a Baggs pickup. Here is the mandolin after its refret, ready for some re-lacquering (neck, back and sides but not the soundboard) and then stringing up. Also shown are the new bridge, tailpiece and tuners.