New World guitars completed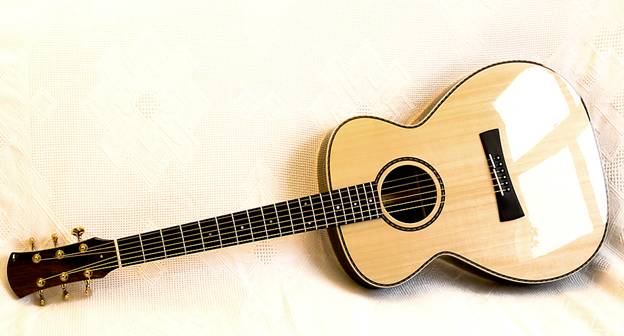 The two New World guitars are now completed and strung.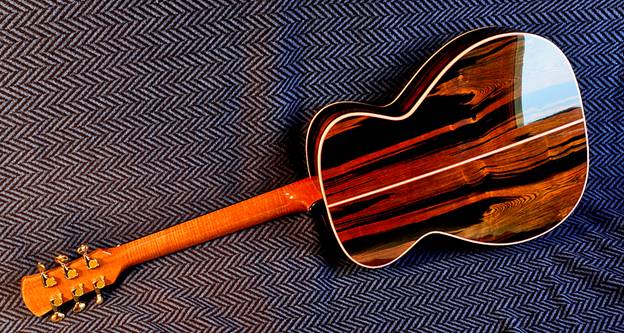 Yellow Calton cases
In the mid 1990s I started selling guitars to Mr. Kakuta in Japan. The arrangements were made by his Japanese colleague in California who gave me the specification Mr. Kakuta wanted, including bright yellow cases with a green interior lining. This seemed such a bizarre choice that I queried it, but was told firmly these were the required colours.
Keith Calton made several of these cases for me. Visitors to his workshop could not fail to notice them and were unanimously horrified – how could anyone want cases this colour?
But by the time they left, some had changed their minds. No one could walk away with your guitar in a bright yellow case without being noticed. And once you acclimatised, the colour wasn't so bad after all. And in direct sun the guitar inside would heat up less than in a dark case.
Some time after this Martin Simpson was touring Japan. He was accompanied on much of the tour by Mr. Kakuta himself, a charming and friendly man. Well into the tour Mr. Kakuta felt bold enough to ask Martin 'why do we have to have yellow cases?'

Mr. Kakuta now takes his Sobell guitars in black cases. However, yellow cases have caught on. The standard MS Signature model case is now yellow with red interior (other colours available of course) as can be glimpsed in pictures of Martin's new MS model in my news item of 28 December 2005.