New D guitar for sale
2018 Model 2 D guitar
This D guitar has Malaysian Blackwood back and sides and a figured Sitka soundboard.  It is built on my larger 12 fret Model 2 body and has 14 frets to the body.
It was ordered by Norwegian guitarist Torbjørn Økland, but when he came to collect he decided instead to buy a Steinbeck Model – the one to which I fitted a combined Highlander/Feather pickup system as an experiment for Martin Simpson – see news item 12 Jan 2018.
This D guitar is lovely looking and sounding.  A capo at the second fret gives standard scale, tuning and string tension.  With the capo removed it is a tone below standard and has wonderful depth, sustain and tone.  It suits alternate tunings well.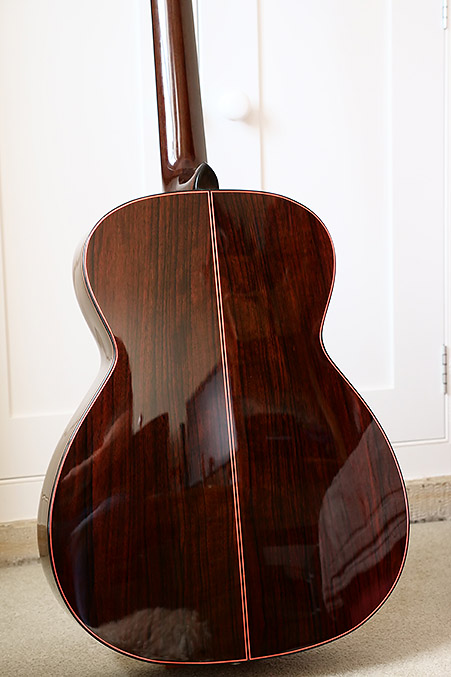 Malaysian Blackwood makes lovely looking and sounding backs and sides.  It is not a rosewood so can be shipped anywhere in the world without requiring certification.
.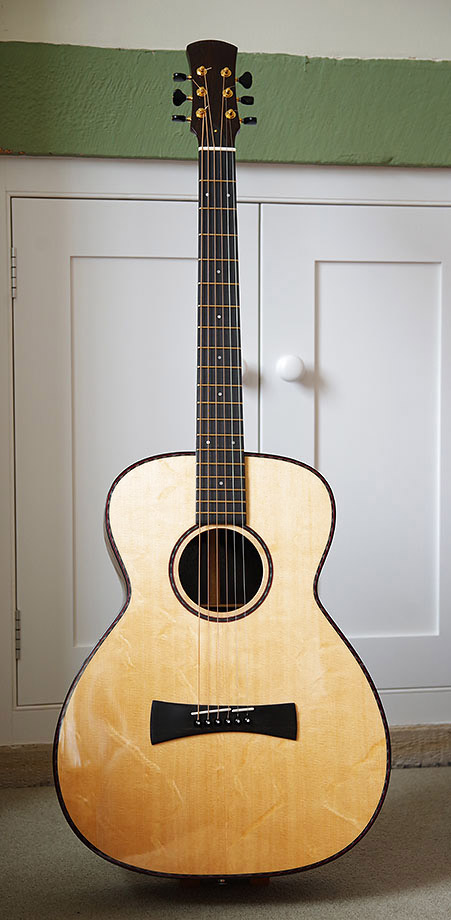 Figured Sitka is not only beautiful, it also makes excellent soundboards.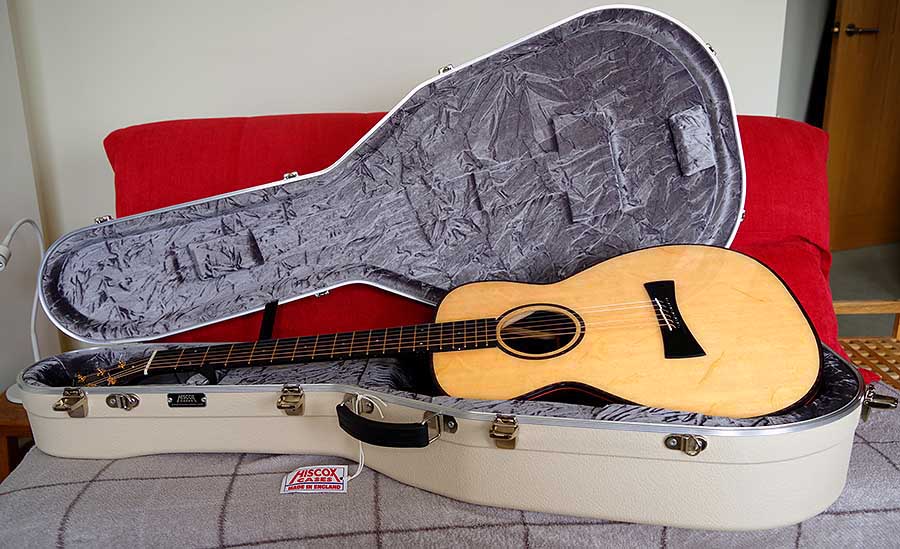 The guitar comes in a top of the line Hiscox Artist case.
Model 2 D Guitar specifications
Scale: 725mm (28.5″)
Soundboard: German spruce or figured Sitka spruce
Back and sides: African or Malaysian Blackwood
Neck: Wengé
Fingerboard:  Ebony
Bridge: Ebony with bone saddles
Tuners:  Gold Gotoh 510s with black buttons
Body length:  525mm (20.7″)
Body width:  420mm (16.5″)
Max depth:  108   (4.3″)
Nut width:  45mm (1 25/32″)
String spacing at bridge: 60mm (2 3/8″)
Fitted pickup:  Highlander
Case: Ivory Hiscox Artist series
.
For more information email stefan@sobellguitars.com or telephone me at my shop on +44 (0) 1434 673567.  If you call and miss me, leave a number and I will call you back.
Stefan Sobell