Mandolins and Mandola
I am concentrating on building guitars so am currently unable to take Mandolin Family orders. I will post information as and when I am building them again. I apologise for any disappointment.
Stefan Sobell
Small and large bodied mandolins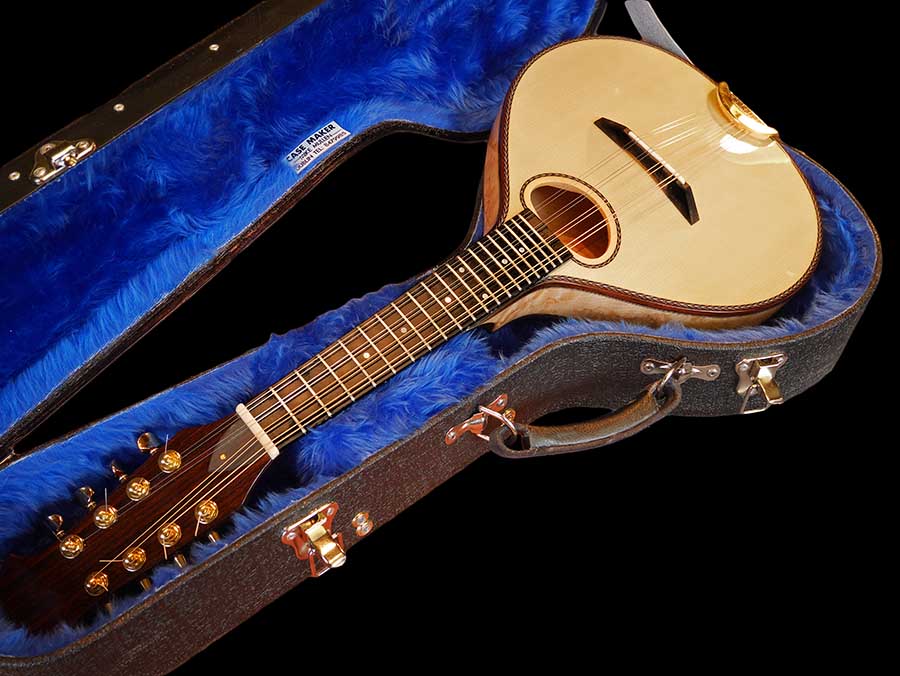 Small bodied birdseye maple mandolinn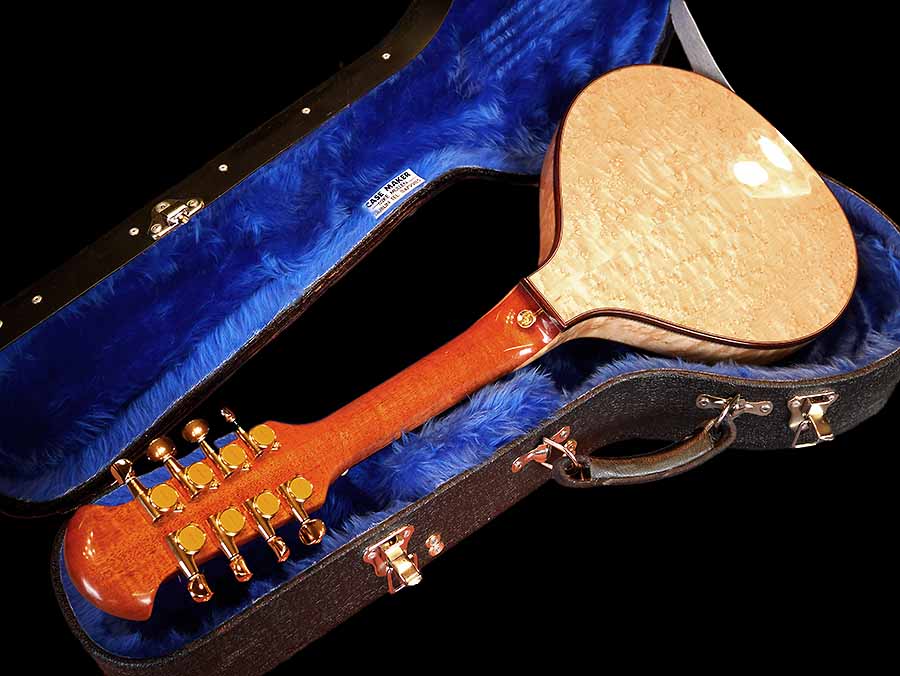 History
I built my first mandolin in the early 1970s. I based it on the citterns I'd been building for a couple of years; it was really a miniature cittern, with its relatively large body and rosewood back and sides.  It was sometimes described as 'being suitable for Celtic music', which I disagreed with; I felt, and feel, it was suitable for many kinds of music.
Over the years I've added a smaller bodied mandolin and changed my standard body wood from rosewood to birdseye maple.  Not only do I love the look of this wood, it gives a firm resonant sound that is a little closer to traditional mandolin sound, rather than sounding like a miniature cittern.
Sound
The two sizes have a similar sound, with the smaller bodied mandolin having perhaps a stronger treble and the larger bodied a stronger bass; much as you'd expect, really.  They are not Bluegrass mandolins, they don't have the throaty chop that suits Bluegrass so well; they have a smoother sound, clear and full with  musical bass and treble, good volume, and just the right amount of sustain.
My preferred (optional) pick-up is the Highlander with in-line battery box; there really isn't room in the mandolin body for a battery.  I haven't tested all the available pickups, but the Highlander works really well in all my instruments and is the best I've come across.
Specifications
Soundboard:                  European spruce.
Back and sides:             Birdseye maple (carved back)
Body width:                   11.4" small 12.4" large
Length:                            27.2" small 28" large
Strings;                            8 small, 8 or 10 large
Fingerboard                    Ebony
Bridge                              Ebony with bone saddle
Neck:                                Brazilian mahogany.
Tuners:                            Gotoh gold minis
Binding:                           Indian rosewood.
Trim:                                Herringbone
Tailpiece:                         Brass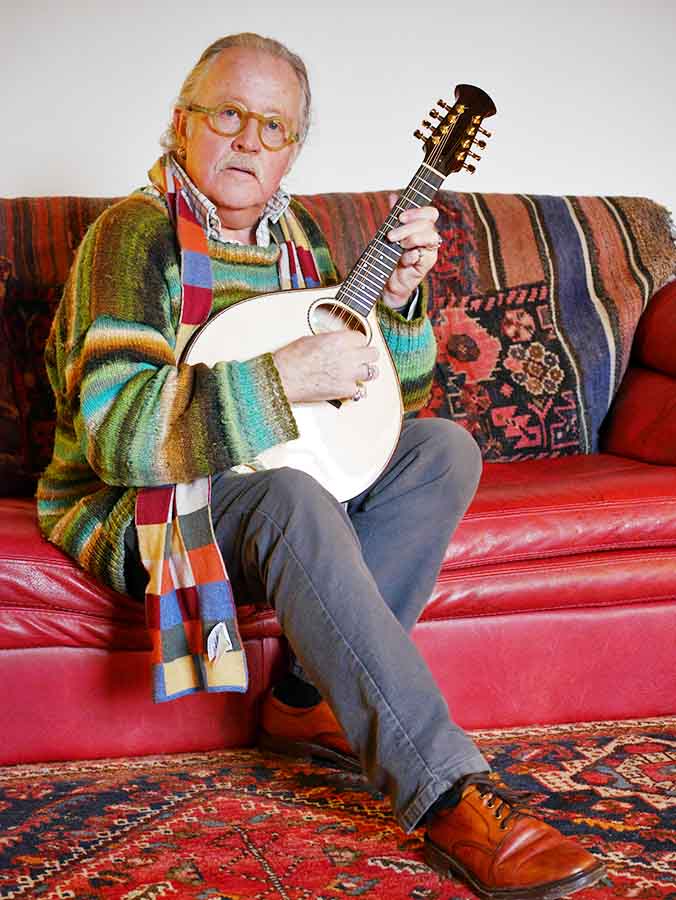 Mike Harding with his new large bodied mandolin February 2014
Mandola
My mandola is based on my small bodied cittern body, with a shallower carved back body made from birdseye maple.  To me it is the perfect combination of body size, scale, pitch, string gauges and pitch.
The sound is clear and firm and also rich, surprisingly so for the body size.  It has more sustain than a mandolin and more space for fingers.  Celtic tune players could find it doesn't play in convenient keys (always a fifth lower than fiddle or mandolin), but other instrumentalists and accompanists who have played one have universally loved it.
The traditional mandola tuning is CGDA but many players now are tuning the top pair down a tone, giving CGDG.  Andy Irvine tunes his a tone up from this giving DAEA; this suits the keys he sings in.
Specifications
Soundboard:   German Spruce
Back and sides:   Birdseye Maple, Indian rosewood optional
Fingerboard and bridge:   Ebony
Neck:   Mahogany
Bridge saddle and nut:  Bone
.
Binding and trim:   Rosewood with black/white/black purfling and Birdsfoot
Tailpiece:   Brass
Tuners:   Gotoh minis
Body width: 14.2″ (36 cm)
Scale: 20.5″″ (52.7 cm)