Citterns and octave mandolins
As of June 2022, we are now building Mandolin family instruments again.
Octave mandolin:  4 courses tuned GDAE or similar, 23″ scale, large or small OK body.
Bouzouki:                  4 courses tuned GDAE or similar, 25.5″ scale, large body
Cittern:                      5 courses, a variety of tunings, 23″ or 25.5″ scale, large body
Our new instruments are built to the highest standards using my original designs and the best available materials.  They have the same special sound, valued by musicians all over the world for many years.
.
Octave mandolin, cittern and bouzouki specifications
Soundboard:  German Spruce
Back and sides:  Indian rosewood, other woods optional
Fingerboard and bridge:  Ebony
Neck: mahogany, Wengé optional
Frets:  Jescar gold
Binding and trim:  Rosewood with coloured purfling and Birdsfoot
Tailpiece:  Brass
Tuners:  Gotoh gold minis
Strap buttons: Gold plated as standard
Lacquer:  Acid catalyst melamine
Body width:  Large body 15.3″ Small body 14.2″
Octave Mandolin scale:  23″
Bouzouki scale:  25.5″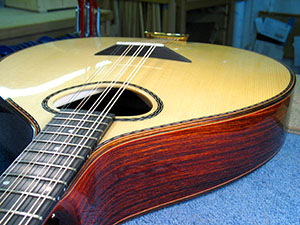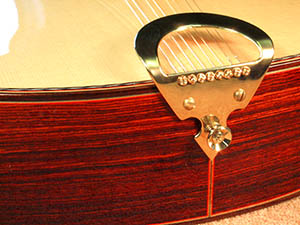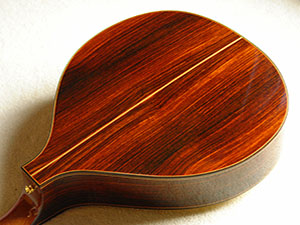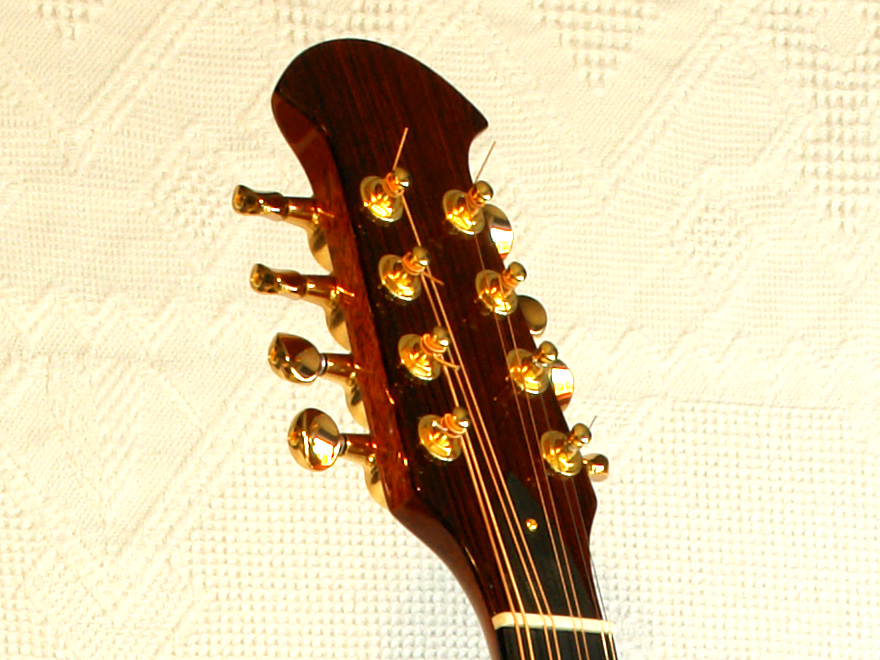 History
I accidentally built my first octave mandolin in 1993, as described  here.
At the time Irish musicians were beginning to play Greek bouzoukis.  The Manson brothers were building flat-back, flat-top bouzoukis, and UK luthier Peter Abnett had built Donal Lunny a semi-round back bouzouki. But my carved arch-top octave mandolins and citterns, with their resonant sound and shorter scale, were different.  They appealed to accompanists looking for an alternative to the acoustic guitar sound and to tenor banjo players looking for a softer and more sustaining alternative to the banjo clack.  Soon I was asked to build a longer scale bouzouki version.
I built my first ten string cittern for Tom Gilfellon (of the High Level Ranters) despite considerable misgivings, but it worked well and was taken up by Brian McNeil of the Battle field Band and many more Glasgow musicians.  It was these musicians, along with Andy Irvine (then in Planxty) who traveled with their citterns and introduced them to musicians and audiences all over the world.