Anniversary Model 2D build

Much loved 2020 African Blackwood and German spruce 2D with Santos rosewood binding
I have built many D guitars since building my first in 2004.  This first was based on my Model 1 redesigned as a 12 fret to the body standard guitar with two extra frets added to the nut.  So giving a long scale 14 fret to the body guitar tuned a tone lower than standard.
Fitting a capo to the second fret turns it into a standard guitar; standard pitch with standard strings at standard tension, with 12 frets remaining to the body. It's a truly versatile guitar.
In 2013 Maurice Condie asked me to build him a D guitar on a Model 2 body, as this was already a 12 fret to the body model. This was an excellent suggestion, and my current D guitars are built to this design.
In 2018 Darrell Scott was visiting the UK and asked me if I had anything interesting to show him.  I showed him a figured Sitka and African Blackwood Model 2D, thinking this would amuse but not seriously interest him. He fell in love with it instantly and took it away with him.
Earlier this year I wanted to hear how a slightly shallower D guitar would sound. I built it with African Blackwood back and sides and a German spruce soundboard.  This has turned out to be my favourite; I've hung on to it and play it every day. Yes, the nut is a long way away, and as I'm short with a limited reach it's a bit of a stretch for me.  But I'm used to it now and it's worth it: a wonderful rich dark sound, clear and strong in both treble and bass.
I love it so much that while I don't have a commission for one, I've just finished an Anniversary version, with dark Brazilian rosewood back and sides and an aged German spruce soundboard. It's currently in the spray-booth; I'm impatient to have it back and play it. Here are a couple of photos showing it ready for lacquer.
.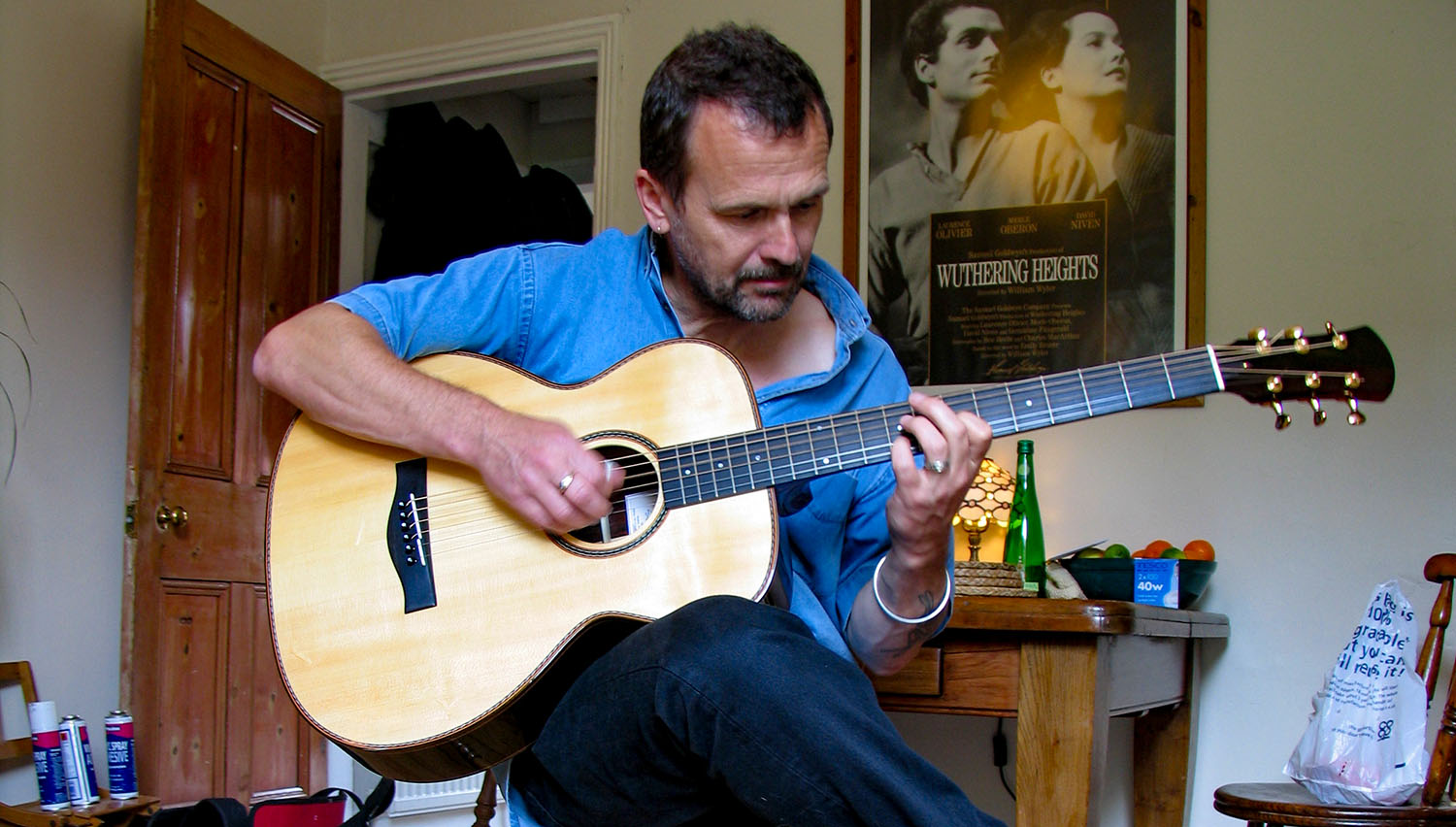 Martin Simpson playing the original Model 1 based D guitar in 2004
Maurice Condie with his brainchild, the first Model 2D in 2013. He says now 'It is still, in my opinion, the best guitar I have ever played (once you get used to the long stretches)'.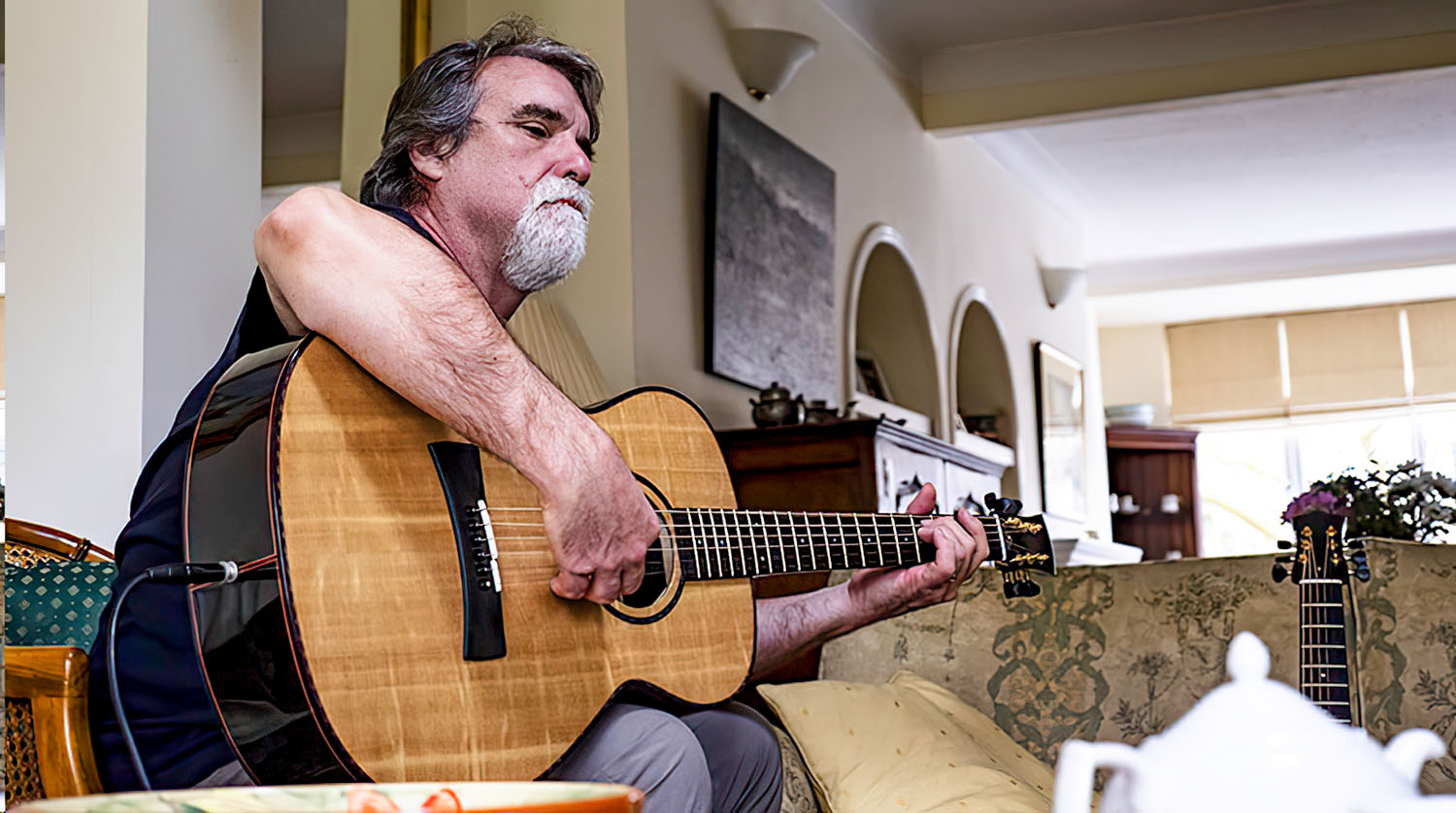 Darrell Scott in 2018 playing the Model 2D he took back to the US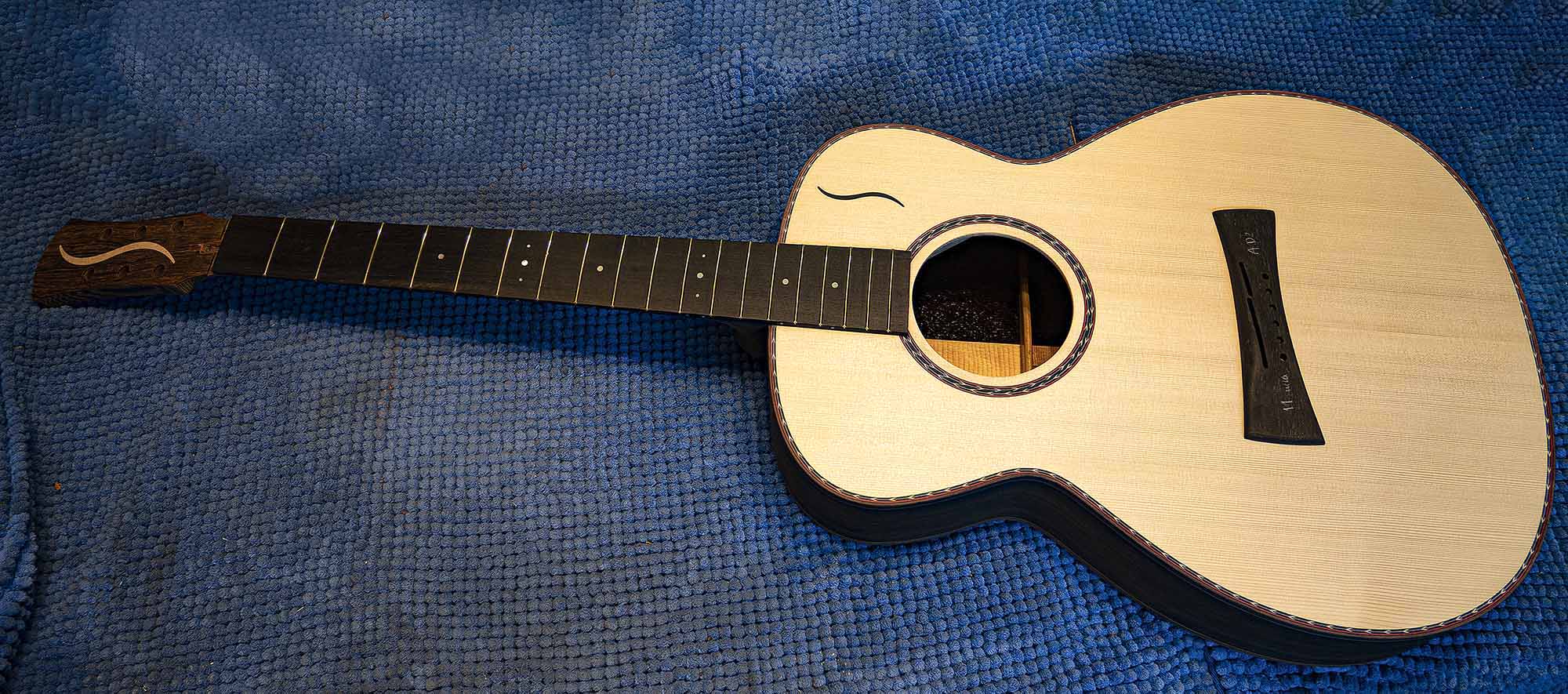 Here the bridge is just resting in place and will be attached after the guitar has been lacquered.  The soundboard comes from Bavarian supplier Stefan Gleissner and is one of his special reserve stock.  Selected for their perfect grain and tone, these have been air dried for between ten and twenty years.
The back and sides are Brazilian rosewood from Inca Trade.  Inca Trade Brazilian rosewood was all reclaimed from ancient houses and furniture. Other than saying it is ancient there is no way of knowing how long ago it was felled.