African Blackwood New World guitar
Yesterday Nick Kemp collected his African Blackwood and Italian spruce New World guitar. His is the third I've built with African Blackwood back and sides; the other two went to Martin Simpson and Jackson Browne. So Nick is in good company.
I've also built an African Blackwood and Douglas Fir New World guitar which went to Peter Saunders in Aberdeen. He is now taking ceilidh dance classes so it doesn't get played much, but Peter is adamant his guitar is not for sale. He says it's more likely to go on his new multifuel stove (which has a special setting for guitars) if Scotland has another hard winter. Alternatively, he could keep himself warm with more ceilidh dancing. Peter is also adding a cittern to his fuel supply later this year.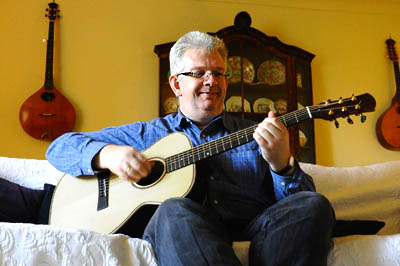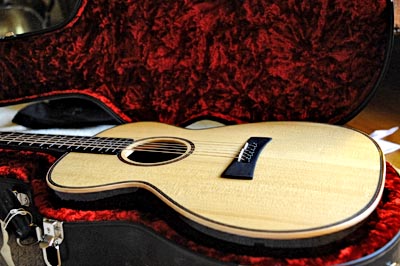 The Dreadnought built and ready to go to David for finishing. This will take around a month.
African Blackwood makes great sounding guitars. When I first came across it I was surprised by it's weight and didn't know what to make of the tap tone; to my ears at the time it didn't have the ring of good Brazilian rosewood. But my first instrument with African Blackwood back and sides (a Model 1) was such a good guitar I went back to the wood and listened again to the tap tone. This time I realised that while it didn't have the same clear metallic ring as Brazilian rosewood, it had a deep and solid tone musical tone that I hadn't listened for the first time.
This difference in the tap tone is reflected in the sound of the finished instruments. Brazilian rosewood gives a more delicate ringing tone while African Blackwood makes guitars with a powerful and very solid sound.