Minor Injury
All these months after injuring my hand (news item 5 June), it is now almost back to normal. While I've been able to work at a reduced pace, the one procedure I've not been able to manage is carving arch-top soundboards. This means I've been concentrating on flat-top guitars and have built no mandolin family instruments or arch-top guitars. My apologies to those kept waiting as a result.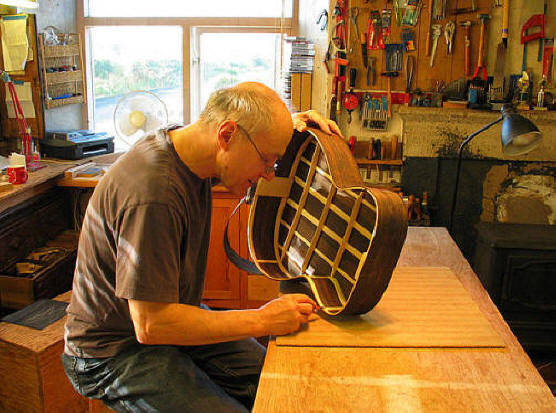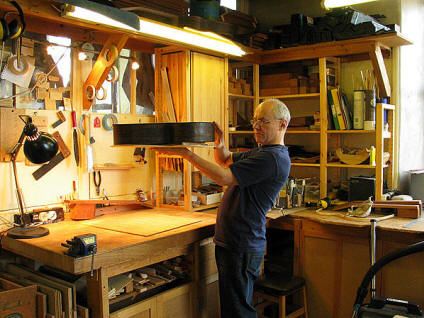 Different woods
As well as the Brazilian rosewood neck fitted to a recent MS Signature model, I've built two New World guitars with European spruce sound boards. They made an interesting comparison with the Adirondack topped NWs I've built before, having a more subtle sound but not quite the same punch. Both good, but clearly different.
The Brazilian rosewood necked MS has a remarkable sound, with a bright treble and a smooth bass. I like it a lot.
As a follow up, I'm building a New World model with a Madagascan rosewood neck and a Carpathian spruce soundboard.
Madagascan rosewood is stiffer than mahogany and has much of the ring of Brazilian rosewood. Carpathian spruce is an Eastern European red spruce, related to Adirondack (North American red spruce). The Carpathian has an unfashionably wide grain but is stiff and light and has a deep, musical tap-tone.
I aim to combine the bright smooth sound of the rosewood neck with the punch and warmth of red spruce. I'm hoping for great results, but the proof of the pudding is of course in the eating. And the eating will have to wait a few weeks until the guitar comes out of the spray booth.
I've been talking to John Wheeler of Hayseed Dixie about this guitar, and I'm building it with him in mind.