MS Signature Model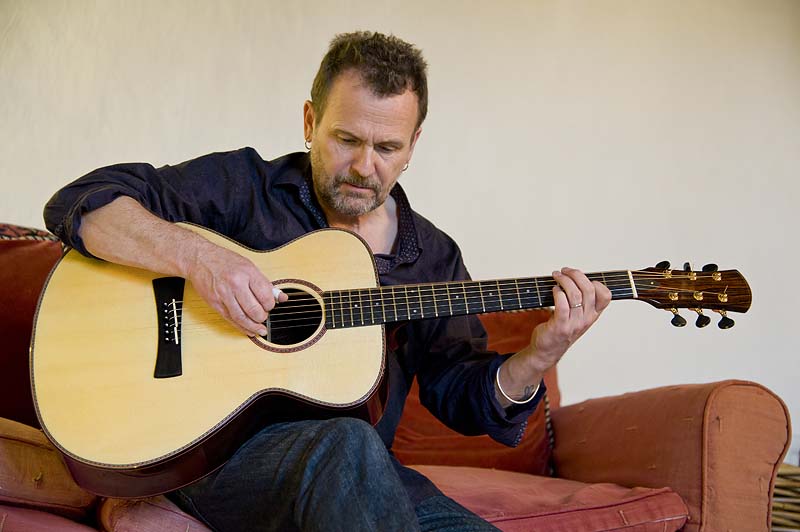 Martin Simpson with early Mk 2 MS guitar
In 2002 I built an experimental Model 1 Sicilian with a modified bracing system.
I showed it to several guitarists, including Martin Simpson. It was clearly different enough to be considered a model in its own right so Martin and I agreed to introduce it as the Martin Simpson Signature model.
I built more prototypes; we talked about the different sound and how we wanted to take it further, and ended up with not just different bracing, but also a new body shape.
The new guitar had the same overall length and width as my Model 1, but a wider upper bout and a larger lower bout and was a little deeper, giving it a greater body capacity. It had a 650mm (25.6″) scale, an asymmetric bridge with split saddle, ebony binding with birdsfoot, and striking red and white purfling.
Martin took delivery of the first MS signature model in September 2003.  In 2005 I introduced a Mark 2 version with modified bracing and a new bridge design. This is now my standard Martin MS model.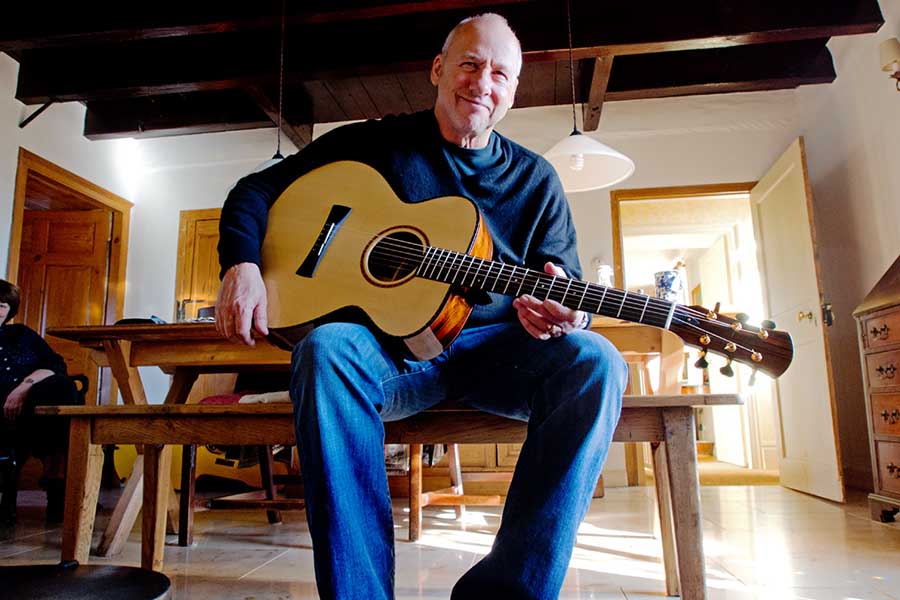 Mark Knopfler collecting his specially commissioned MS guitar
The Martin Simpson Signature model has become one of my most popular guitars, chosen not only by Martin but also by Mark Knopfler, Darrell Scott, Rens van der Zalm and many others.
I build no more than six MS Signature models in any one year.
Click here for three songs sung by Darrell Scott (shown middle near right and lower far right) playing his MS mode in an Acoustic Guitar Magazine video.
Specifications
| | |
| --- | --- |
| Soundboard: | European, Adirondack or Italian spruce |
| Back and sides: | Brazilian rosewood, African or Malaysian Blackwood |
| Neck: | Cuban mahogany |
| Fingerboard: | Ebony |
| Bridge: | Ebony with two piece bone saddle |
| Binding: | Ebony with red and white purfling |
| Trim: | Birdsfoot edging with red and white purfling |
| Body Width: | 16.3″ (415 mm) |
| Body Length: | 495mm (19.5") |
| Max body depth: | 120mm (4.74") |
| F/b width at nut: | 1.75″ (45 mm) |
| Scale: | 650mm = 25.6" |
| Tuners: | Gold Gotoh 510 with black buttons, others optional |
| Pickup (optional): | Highlander, internal or external battery |
The Martin Simpson model has a big sound, bigger than that of a 000 size guitar, but without the boomy bass of some jumbo and dreadnought guitars.  And the volume isn't at the expense of sustain, both bass and treble sustain well.
Standard string spacing at nut and bridge is wide, to suit finger-picking; plectrum players usually prefer closer spacing and I can close up the spacing if asked to do so.
The Mark 1 Simpson model had a dramatic sound, but  required really good technique on the part of the player to get the best from it; not every guitarist could achieve Martin's tone and balance.
The Mark 2 is much more accessible and less demanding, without sacrificing any of the original sound qualities.
The long scale suits tuning down without losing too much tension, so the tunings Martin uses that require low D and low C work well.  It's a very stable guitar and like all my models, holds its tuning well over long periods of time.
Here are a few pictures showing various stages of constructing a Martin Simpson Signature model – not a comprehensive account, just random photos.
1. Lining gluing to side
2. Side linings notched to receive back braces
3. Back and sides ready to receive the soundboard
4. Neck joint, showing through neck and wedge ends
5. Routing saddle slots in bridge
6. Finished bridge
7. Body bound and ready to receive neck
8. Bridge gluing onto lacquered guitar
Click on the thumbnails for larger images.